Supercritical Fluid Extractors
Supercritical Fluid Extractor handles various applications.
Press Release Summary: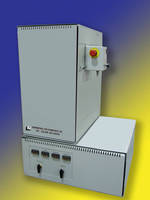 Designed for various extractions in supercritical fluid, SFT-250 Supercritical Fluid Extractor features extraction vessel which is forged from stainless steel. Ranging in size from 100 mL to 5 L, unit supports pressures up to 10,000 psi and ambient temperatures up to 200°C. It is controlled by PID controllers, which manage pumping rates, pressures, temperature zones, mixing, and safety interlocks. Engineered for use in research lab, extractor may also be used for small scale pilot processing.
---
Original Press Release:

SFT- 250 Supercritical Fluid Extractor



Supercritical Fluid Technologies, Inc. introduces the SFT-250 Supercritical Fluid Extractor (SFE). Designed to perform a variety of extractions in supercritical fluid, the SFT-250 is engineered to meet the day-to-day rigors of the research lab. Additionally, the system may be used for small scale pilot processing. The SFT-250 is simple to operate and easy to modify for evolving applications needs.

The SFT-250's extraction vessel is forged from durable stainless steel. Vessels can range in size from 100 mL to 5 liters. Larger vessels are idea for extracting very low levels of key components from a raw material or for process larger amounts of bulk material. A wide range of operations pressures (up to 10,000 psi) and temperatures (ambient to 200°C) ensures the SFT-250 has the flexibility required to meet almost any application of supercritical fluids.

The SFT-250 is controlled by PID controllers. These manage pumping rates, pressures, temperature zones, mixing and safety interlocks. Upgrades include: various co-solvent modules, data logging and flow control automation.

For more information, please call us at 302-738-3420 or visit us on-line at www.supercriticalfluids.com.

Supercritical Fluid Technologies, Inc. was founded in 1994 and maintains corporate headquarters in Newark, Delaware, USA. The company specializes in the manufacture of bench top and small scale pilot equipment for supercritical fluid extraction, reaction and high pressure chemistry. The company provides contract research and custom engineering services.

Editors: Marketing Ideas and Designs, Inc. is the advertising agency representing SFT for press releases. Please address any editing questions to our office:
Ph: 256-657-6423 ATTN: LaDonna Herrera email: ladonna@marketingid.com

More from Machinery & Machining Tools