Supercapacitor Chargers employ automatic cell balancing.
Press Release Summary: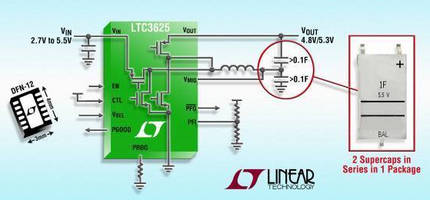 Supplied in 3 x 4 x 0.75 mm DFN package, LTC3625/-1 address peak power, data backup, and dying-gasp needs in portable and data storage applications. Both programmable 1 A buck-boost 2-cell supercapacitor chargers employ switchmode topology. Respectively, LTC3625 and LTC3625-1 can charge 2 supercapacitors in series from 2.7-5.5 V current-limited supply to pin-selectable output voltages of 4.8 or 5.3 V and 4 or 4.5 V. Quiescent current draw is 50 µA.
---
Original Press Release:

Programmable 1A Buck-Boost 2-Cell Supercap Chargers with Automatic Cell Balancing in Compact 12mm² Package



MILPITAS, CA - Linear Technology Corporation introduces the LTC3625 and LTC3625-1, the latest in a family of 2-cell supercapacitor chargers for addressing high peak power, data backup and "dying gasp" needs in portable and data storage applications. The LTC3625/LTC3625-1's high efficiency switchmode topology includes an internal buck converter between VIN and the series capacitor mid-point VMID to regulate the voltage on the bottom capacitor, as well as an internal boost converter between VMID and VOUT to regulate the voltage across the top capacitor. The devices can charge two supercapacitors in series from a 2.7V to 5.5V current-limited supply to a pin-selectable output voltage (4.8V/5.3V for LTC3625 or 4V/4.5V for LTC3625-1). These ICs are optimized to provide fast capacitor charge times with high efficiency. The combination of high efficiency, high charge current, low quiescent current and low minimum external parts count make the LTC3625/-1 ideal for small form factor backup or high peak power systems, USB-powered equipment, industrial PDAs, portable instruments and monitoring equipment, power meters, supercap backup circuits and PC card/USB modems.

The output current of the LTC3625/-1's buck converter is user-programmable via the PROG pin, and the input current of the boost converter is set at 2A (typical). The resulting maximum charge current is 1A continuous with two inductors, and 500mA with a single inductor configuration. Each capacitor is protected against overvoltage by internal voltage clamps (2.4V/2.65V selectable for LTC3625 or 2.0V/2.25V selectable for the LTC3625-1). The LTC3625/-1's automatic cell balancing feature maintains approximately equal voltages across both cells, eliminating the need for balancing resistors while protecting each supercapacitor from overvoltage damage.

The LTC3625 and LTC3625-1 operate with a very low 50uA quiescent current when the output voltage is in regulation. When the input supply is removed or the EN pin is low, the LTC3625/-1 automatically enters a low current state, drawing less than 1uA from the supercapacitors. The basic charging circuit requires only three external components (one inductor, one bypass capacitor at VIN and one programming resistor) and is highly compact, offered in a tiny 12mm2 package footprint. Additional protection features include over-temperature protection for momentary overload conditions, over-current limiting, and reverse- current protection in which the device will continue to regulate at its programmed current even into a grounded output.

The LTC3625 and LTC3625-1 are available in a compact, thermally enhanced, 12-lead, low-profile (0.75mm) 3mm x 4mm DFN package. The devices are specified over a -40°C to 125°C operating junction temperature range and are in stock, priced starting at $3.00 for E grade and $3.45 for I grade each in 1,000-piece quantities. For more information, visit http://www.linear.com/3625.

Summary of Features: LTC3625 and LTC3625-1

High Efficiency Step-Up/Step-Down Charging of Two Series Supercapacitors

Automatic Cell Balancing Prevents Capacitor Overvoltage During Charging

Programmable Charging Current Up to 500mA (Single Inductor), 1A (Dual Inductor)

VIN = 2.7V to 5.5V

Selectable 2.4V/2.65V Regulation per Cell (LTC3625), Final Output Voltage 4.8V/5.3V

Selectable 2V/2.25V Regulation per Cell (LTC3625-1), Final Output Voltage 4V/4.5V

Low No-Load Quiescent Current: 50uA

IV>OUT, IVIN < 1uA in Shutdown

Low Profile 12-lead 3mm x 4mm DFN Package

About Linear Technology
Linear Technology Corporation, a manufacturer of high performance linear integrated circuits, was founded in 1981, became a public company in 1986 and joined the S&P 500 index of major public companies in 2000. Linear Technology products include high performance amplifiers, comparators, voltage references, monolithic filters, linear regulators, DC-DC converters, battery chargers, data converters, communications interface circuits, RF signal conditioning circuits, µModule® products, and many other analog functions. Applications for Linear Technology's high performance circuits include telecommunications, cellular telephones, networking products such as optical switches, notebook and desktop computers, computer peripherals, video/multimedia, industrial instrumentation, security monitoring devices, high-end consumer products such as digital cameras and MP3 players, complex medical devices, automotive electronics, factory automation, process control, and military and space systems.
LT, LTC, LTM, µModule and are registered trademarks of Linear Technology Corp. All other trademarks are the property of their respective owners.


More from Printing & Duplicating Equipment