Super Computer Server offers 5 TFLOPS computing power.
Press Release Summary: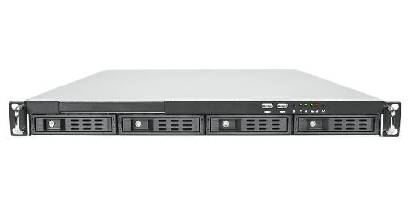 Providing up to 5 TFLOPS of peak single-precision floating point performance or 2 TFLOPS of double-precision floating point performance, 1U Model HPC-1714 is suited for high-speed scientific computing, business analytics, and real-time simulations. Unit features 60 cores and up to 244 multi-thread as well as computing storage capacity upgradeable to 32 TB and scalable to multiple clustering nodes. Additional applications include digital content creation, life science R/D, and weather forecasting.
---
Original Press Release:

Cepoint Rolls Out 1U Compact HPC Super Computer Server with 5-TFLOPS Computing Power



El Segundo, CA – Cepoint Networks, LLC rolls out one of industry's compact most powerful Intel based HPC (High Performance Computer). A  1U Super Computer server with up to 5 TFLOPS of peak single-precision floating-point performance or 2 TFLOPS of double-precision floating point performance, ideal for high speed scientific computing or Business analytics and real-time simulations such as in oil and gas, Life sciences, weather simulation, Physics and Image and signal processing or video trans-coding and film or animation rendering farms.



Cepoint's  hpc-1714 with 60 cores and up to 244 multi-thread is ideal high powered high speed processing system designed for real-time or near real-time simulations for life sciences, astrophysics, video and image processing, signal processing, security and financial analytic.



HPC-1714 is offered with computing storage capacity upgradeable to 32TB and scalable to multiple clustering nodes. Intel Media Server Studio CE, Including OpenCL Code Builder Package and Intel Parallel Studio XE 2015 is bundled with Cepoint's HPC-1714 high-performance super computer server.



APPLICATIONS:

Digital content creation, Video & Imaging

HPC-1700 helps speed up  and caught be 60% time required to complete single precision operations used within 4K ultra HD video enhancement, signal processing, video trans-coding and digital film rendering applications.



Life science applications

Life sciences  R & D such as human genomes. molecular dynamics simulation, pharmacology, and man other disciplines requiring quick modeling and analysis require  high-performance computing and parallel processing.



Weather

The weather vertical needs a tremendous amount of compute capabilities to accurately predict weather all over the world, including the formation of tornado, the direction of a hurricane, and rain fall predictions. Weather Research and Forecasting (WRF) is one of the more frequently used weather simulation packages.



Energy Application Performance

HPC for Oil and gas companies, delivering energy solutions use a tremendous amount of compute power to simulate and predict the location of energy resources. Careful analysis through simulation is critical to ensure positive results. Use of specific seismic imaging software packages to predict the location of energy resources is important.



HPC (High Performance Computers) are the heart core of super fast paralleling computing and clustering. Their blazing performance and reliability makes them excellent for wide range of scientific R & D,  enterprise computing such as financial management telephony and signal processing, applications where 24 x 7 mission-critical operations is important.



About Cepoint Networks

Cepoint Networks, LLC is a systems integration and consulting firm specializing  in applied computing products and services for scientific R & D,  enterprise applications, telephony and telecommunications industry, Government, Energy, Oil & Gas  and industrial markets. Products and services include turnkey rack mount fault-tolerant cluster servers for mission-critical applications and high performance computing, telephony systems for voice processing, video/audio conferencing, real-time large scale surveillance, message logging and telecasting and, rugged portable lunch box workstations for field applications, network engineers and technicians. 1U, 2U, 3U and 4U Fail-Resilient Raid storage, SAN, NAS and servers for audio and video data archives or real-time video/data streaming and VoIP, custom hardware and software integration.



For more information contact: 

sales@cepoint.com  

Cepoint Networks, LLC

www.cepoint.com

Ph:(603)557-7464

Website: blog.cepoint.com

More from Computer Hardware & Peripherals