SunTech Medical Features Oscar 2™ for 24-Hour ABPM at FIME 2017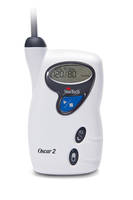 Morrisville, NC (August 4, 2017) – SunTech Medical will display its Oscar 2™ ambulatory blood pressure monitor at the 2017 Florida International Medical Expo. Visitors to the company's booth B.M28 in West Hall B, 1-4 can view hands-on demonstrations of the 24-hour ABPM monitor.
The Oscar 2 uses patented sub-diastolic waveform measurement with motion tolerant technology to reduce failed readings and repeated studies due to motion-related artifacts. The device features AccuWin Pro 4 software for efficient programming and data analysis. Optional Bluetooth connectivity pairs with SunTech Medical's True24™ patient diary mobile app, supporting patients with device tutorials and prompts to enter information about their activity, posture or symptoms after a BP measurement is taken.
Oscar 2 with optional central blood pressure measurement is powered by SphygmoCor® technology from AtCor Medical. Backed by over 800 published studies, the technology is considered the gold standard in pulse wave analysis and central blood pressure measurement.
The FIME 2017 exposition takes place from August 8-10 at the Orange County Convention Center (Orlando, Fla.).
For more information, call SunTech Medical at 1.800.421.8626 or visit www.suntechmed.com.
About SunTech Medical
SunTech Medical, a Halma company, has been the preeminent supplier of clinical-grade blood pressure monitoring products and technologies for 30 years. More than 75 companies trust SunTech Medical's OEM non-invasive blood pressure solutions for their patient monitoring needs. SunTech Medical produces the leading cardiac stress test blood pressure monitor and is the world's foremost manufacturer of ambulatory blood pressure monitoring products. SunTech Medical also offers solutions for in-office blood pressure monitoring for human and veterinary markets, as well as a complete line of blood pressure cuffs designed for general and specific applications.
Company Contact:
Kent Lupino
SunTech Medical, Inc.
Morrisville, NC 27560 USA
Tel: +1 919.654.2366
Fax: +1 919.654.2301
E-mail: sales@suntechmed.com
Website: www.suntechmed.com
More from Fluid & Gas Flow Equipment