Sunstream SwiftShield Automatic Boat Covers Now Compatible with Most Boat Lift Categories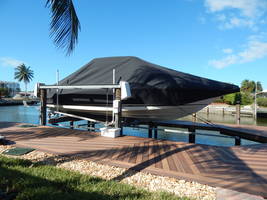 Kent, Wash. – Sunstream® Boat Lifts, the leading manufacturer of high-quality portable and installed boat lifts and hoists, announced today that its SwiftShield™ A-Series Automatic Boat Cover line of products are now compatible with almost all boat lift categories in today's marketplace.
The ultimate in boat protection, SwiftShield greatly enhances the boating experience by automatically installing and removing a custom full mooring cover in seconds, offering unparalleled protection that includes the sides and stern. Completely protecting the vessel from sun and weather damage, SwiftShield lets owners use their boat effortlessly like a car, reducing the hassle of boat ownership and allowing them to use their boat more often. In addition, the protection provided by SwiftShield helps boats retain their condition and improves resale value.
Using three-dimensional digital measuring tools, Sunstream is capable of creating custom covers tailored to address stress points for a perfect fit and long lifespan. The custom cover, sold separately, is measured on site and can be ready in as little as a week.
"Over the past several years we've been working hard to innovate within the custom boat cover industry," said Ken Hey, CEO of Sunstream Boat Lifts. "We are pleased to announce that we can deliver perfectly fitted covers, affordably and quickly, that are fully compatible with any category of boat lift. Our complete line of SwiftShield products are perfectly suited to protect and maximize the lifespan of the higher-end interiors and colorful paint jobs we see in the boat market today. The boat ownership experience should be easy and enjoyable and Sunstream helps you keep it that way."
Available for purchase from authorized Sunstream dealers worldwide, the SwiftShield A-Series Automatic Boat Cover is designed for boats up to 40 feet in length with prices starting at $6,829 and custom cover prices starting at $2,868. For more information on the innovative SwiftShield™, Sunstream or its complete line of high quality boat lifts and accessories, please call (253) 395-0500, email: sales@sunstreamcorp.com or visit www.sunstreamcorp.com.
About Sunstream Corp:
Sunstream Corporation, based in Seattle Washington, is the leading portable hydraulic boat lift and hoist manufacturer in the world. Founded in 1996, Sunstream has been recognized multiple times for their innovation and fast growth.
Contacts:
Julie Gazda
Sunstream Boat Lifts
JGazda@sunstreamcorp.com
More from Fluid & Gas Flow Equipment