SUNSTREAM® Automatic Boat Covers are designed for boats up to 42 ft in length.
Press Release Summary: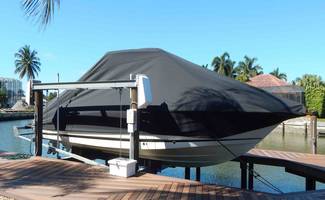 Compatible with any boat lift, SwiftShield™ Universal Automatic Boat Cover (ABC-U) and the SwiftShield™ Piling Automatic Boat Cover (ABC-P) automatically installs and removes custom full mooring cover in seconds, while ensuring that the sides and stern are also protected. Maximizing space, covers remain clean as they are packed into a roller. Operated using keychain-remote, ABC-U and ABC-P system features articulating arm that allow wide range of motions.
---
Original Press Release:
Sunstream® Introduces New Swiftshield™ Automatic Boat Covers Compatible with Most Boat Lifts
Announcing Revolutionary Hassle-Free Automated Cover System for Boat Lifts
Sunstream® Boat Lifts, the leading manufacturer of high-quality portable and installed boat lifts and hoists, announced today the launch of the SwiftShield™ Universal Automatic Boat Cover (ABC-U) and the SwiftShield™ Piling Automatic Boat Cover (ABC-P). These two new configurations join the SwiftShield™ Automatic Boat Cover for the Sunstream SunLift™ line of products to create a family of cover solutions for most boat lifts in today's marketplace.
A breakthrough in boat protection, the ABC-U and ABC-P products greatly enhance the boating experience by automatically installing and removing a custom full mooring cover in seconds, offering unparalleled protection that including the sides and stern.
A patented design, the keychain-remote-operated ABC-U and ABC-P systems actuate an arm with hydraulics and a spring-loaded roller and automatically deploys a tight fitting three-dimensional cover over a boat. The custom-fitted cover is stored on a roller when the boat is being used, consolidating space on board or on the dock, and eliminating the need to handle a dirty cover. When deployed, the cover is automatically unrolled and pulled over the boat.
"Having initially developing SwiftShield™ technology for our own lifts, we are thrilled to release two brand new configurations which enable use on most any boat lift on the market," said Ken Hey, CEO of Sunstream Boat Lifts. "Lifts are an essential boating accessory that keep bottoms clean and boats secure, and now, with the release of our SwiftShield™ Universal Automatic Boat Cover and SwiftShield™ Piling Automatic Boat Cover configurations, owners can enjoy complete trouble-free protection from the sun, birds and debris, maintaining both the beauty and value of their vessel. With our lifts and automatic covers, people are boating more often, with more enjoyment."
Offering boat owners a completely hassle-free experience, the automatic boat cover mechanism mounts to the guide-ons or frame of most any boat lift, new or previously installed. This allows owners to enjoy the added benefits of an automatic cover without the expense of changing their existing lifts. The new systems also feature a unique articulating arm created to allow for wide range of motion of the arm while reducing the height as the device operates, permitting use under many covered moorage areas and increasing resistance to wind. In addition, an innovative clutch system prevents over-tightening of the spring.
The custom cover, sold separately, can be measured by anyone with a small, handheld laser at 75 different points around the boat. Once this data is provided to Sunstream, the points are entered into CAD software, fit is customized, stress is analyzed, panels are designed, material use is optimized and fabric is digitally cut. This method creates a better fitting cover that is ready in as little as two weeks for about the same cost as a fully custom cover from a canvas maker. An added benefit is that once the pattern is stored in the Sunstream library, a new cover can easily be reordered without having to take new measurements.
Available for purchase from authorized Sunstream SwiftShield™ dealers worldwide, the Universal Automatic Boat Cover and Piling Automatic Boat Cover are designed for boats up to 42 feet in length with prices starting at $6,999. Custom covers start at $2,000. For more information on the innovative SwiftShield™, Sunstream or its complete line of high quality boatlifts and accessories, as well as dealership opportunities, please call (253) 395-0500, email: [email protected] or visit www.sunstreamcorp.com.
About Sunstream Corp:
Sunstream Corporation, based in Seattle Washington, is the leading portable hydraulic boat lift and hoist manufacturer in the world. Founded in 1996, Sunstream has been recognized multiple times for their innovation and fast growth. www.sunstreamcorp.com
Contact:
Julie Gazda
Sunstream Boat Lifts