Sundrops 59 Foaming Lotion Soap from Sunburst Chemicals Designated Safer Choice Product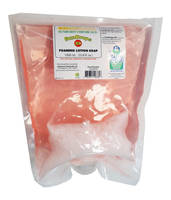 MINNEAPOLIS, MN - Sunburst Chemicals offers Sundrops 59 premium foaming lotion hand soap. Sundrops 59 is recognized by the EPA's Safer Choice program as an effective hand cleaner that is also an environmentally safer product. In addition to being biodegradable and environmentally responsible, Sundrops 59 reduces hand soap usage by as much as 50% per hand wash. The thick foam is enriched with lanolin so it's gentle, yet effective at cleaning and moisturizing skin, leaving hands feeling smooth and smelling pleasant with a mild floral fragrance.
Sundrops 59 comes in 8 x 1000mL pack sizes. Refillable soap dispensers are available.
About Sunburst Chemicals
Sunburst Chemicals has been on the forefront of environmentally friendlier cleaning technology, since it began producing solid cleaning chemicals in the early 1980s. With products that are Safer Choice-certified, and using Lean Manufacturing practices, Sunburst Chemicals has the expertise and the products to deliver the best environmental solutions for your cleaning needs.
Sunburst Chemicals,
220 W. 86th Street, Minneapolis, MN 55420;
(800) 899-7627 or (952) 884-3144;
fax: (952) 884-1046;
Customer Contact:
Pat Laughlin
Sunburst Chemicals
800-899-7627
plaughlin@sunburstchemicals.com
More from Agricultural & Farming Products