Sump Pumps incorporate interchangeable parts.
Press Release Summary: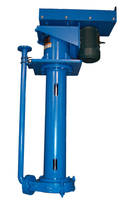 Model VRS vertical rubber-lined sump pumps feature interchangeable wet end parts with SRL pumps, including liners, impellers, and casing halves. User can replace liners without changing pump casings. Large-diameter, open impellers pass solids and resist air binding, while heavy-duty power ends and shafts limit impeller deflection. Available in 4 different diameters and 4 or 6 ft lengths, pumps handle duties with up to 120 ft head, solids up to ¼ in., and pressure up to 75 psi.
---
Original Press Release:

New Goulds VRS Pump



In an industry first, the parts are interchangeable with Goulds SRL horizontal pumps.

Plant Operators can pump tough slurries with dramatically lower maintenance and operating costs using the new Model VRS introduced today by ITT Goulds Pumps.

The Goulds VRS vertical rubber-lined cantilever sump pump sets new standards for energy efficiency and other costs with three key features:

o Interchangeability - VRS liners, impeller and casing halves are all interchangeable with Goulds Model SRL horizontal pumps, resulting in reduced parts inventory and maintenance costs.

o Field-replaceable elastomer liners - The VRS vertical pump allows for liner replacement without requiring a change of the entire pump casing; full pump wet end replacement would be two to three times the cost of just replacing liners.

o High efficiency - The impellers are built with tighter tolerances than other vertical sump pumps, which improve operating efficiency and saves up to 40 percent in energy costs.

The VRS is being included in applications in chemical processing, power, and pulp and paper industries.

About VRS

In industrial applications, the heavy slurries are transferred from one process to the next using horizontal slurry pumps. Spills and overflows are collected in sumps and vertical sump pumps are often utilized to move this overflow for reprocessing or disposal.

The VRS is ideally suited for sump services with solids-laden slurries. It is the first pump in the industry to share interchangeable wet end parts with Goulds popular SRL pump - thousands of which are in use worldwide in mining applications. The interchangeable design allows operators to stock only one type of replacement parts, reducing inventories and simplifying pump maintenance throughout the operation.

In addition to interchangeability, the VRS pumps offer field replaceable elastomer liners. Unlike most conventional pump designs that require the entire casing to be replaced upon failure, the cost of the VRS replacement liners is less than one half the cost.

The impellers used in Goulds VRS and SRL pumps feature tighter tolerances than competing vertical sump pumps, lowering energy costs for running the pump by ten to twenty percent. The large-diameter, open impellers are also capable of passing large solids and resisting air binding, which furthers the operating life of the pump. The heavy-duty power end and large diameter shaft limits impeller deflection. As a result, the VRS has outperformed competitors in field trials with less vibration, higher reliability and reduced life cycle costs. The cantilever design also eliminates the need for a lower bearing and seal water.

ITT Goulds Pumps slurry pump product manager Haminder Ahluwalia explained that in developing the VRS, his team sought to bring the same proven design of ITT Goulds' horizontal pumps to the vertical line. "Among operators and other managers of slurry applications, vertical sump pumps are notorious for high energy and maintenance costs," Ahluwalia said. "By making the parts interchangeable with our proven horizontal pumps, we are able to deliver superior performance at a competitive price, and save our customers a significant amount of money and hassle down the road."

Price and availability

The VRS pumps are available in 2, 3, 5 and 6 inch diameters with 4 feet and 6 feet lengths. They can handle duties with up to 120 feet head, solids up to ¼ inch (6 mm), and 75 psi (520 kPa) working pressure. The Model VRS is competitively priced and available from authorized ITT Goulds Pumps distributors.

To learn more visit www.gouldspumps.com.

About ITT Corporation

ITT Corporation (www.itt.com) supplies advanced technology products and services in several growth markets. ITT is a global leader in water and fluid transport, treatment and control technology. The company plays a vital role in international security with communications and electronics products; space surveillance and intelligence systems; and advanced engineering and services. It also serves a number of growing markets-including marine, transportation and aerospace-with a wide range of motion and flow control technologies. Headquartered in White Plains, N.Y., the company generated $8.8 billion in 2007 sales.

More from Non-Industrial Products