Sump Pump Energizer ensures operational readiness.
Press Release Summary: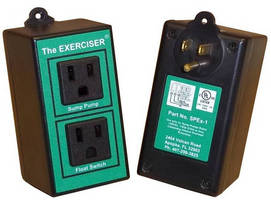 Designed as commercial and industrial product, The Exerciser® regularly energizes sump pumps that may experience extended periods in which they are not run. Product will energize for 2 sec and then begin selected timing cycle after all connections - sump pump, float switch, 115 Vac wall outlet - are made. Factory setting is set for ON time of 3 sec and OFF time of 14 days, and float switch closure energizes sump pump to run continually until float switch opens.
---
Original Press Release:

The Exerciser® for Use with Sump Pumps



MPE has designed The Exerciser® as both a commercial and industrial product. This product has been designed to regularly energize Sump Pumps that may go for extended periods of time without being run.

Simply plug your Sump Pump, and the Float Switch that comes with The Exerciser®, into the receptacles on the Sump Pump Exerciser. Then plug the Sump Pump Exerciser into a 115VAC wall outlet. The Exerciser® will energize for 2 seconds, and then begin the timing cycle selected. Factory setting is set for an ON time of 3 seconds, and an OFF time of 14 days. Float Switch closure energizes the Sump Pump to run continually until the Float Switch opens.

As a commercial product, The Exerciser® will protect the homeowner by ensuring their sump pump will run when it is called to do so. By periodically exercising sump pumps that may otherwise sit for an extended period of time, The Exerciser® keeps your sump pump ready to go. For industrial applications, The Exerciser® can be used for elevator sumps, loading docks, and dry pit sump applications. For more information, contact M.P. Electronics at 407-299-3825.

Related