Sulfur Tail Gas Analyzer features automatic flow control.
Press Release Summary: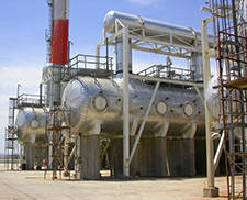 Designed to boost reliability and safety in Claus recovery process, Model 888 features automatic flow control for proactive response to adverse process conditions. Flange temperature alarm provides early warning of poor steam quality or defunct steam trap to prevent sample flow failure. Offering extended ambient temperature range to 140°F, H2S/SO2 tail gas analyzer includes double-block process isolation and web-enabled interface for remote data acquisition by Ethernet and Modbus.
---
Original Press Release:

Next Generation Sulfur Tail Gas Analyzer Boosts Reliability and Safety in Claus Recovery Process



New AMETEK Process Instruments Model 888 features automatic flow control and extended temperature range



AMETEK Process Instruments (www.ametekpi.com) has introduced its third generation H2S/SO2 tail gas analyzer with significant reliability advances for control of the Claus sulfur recovery process. New features of the Model 888 Sulfur Recovery Tail Gas Analyzer overcome the three most common external failure modes encountered by Sulfur Recovery Units (SRU). These include:



• Automatic flow control for proactive response to adverse process conditions such as liquid entrainment during SRU (sulfur recovery unit) turndown

• Flange temperature alarm to give early warning of poor steam quality or defunct steam trap to prevent sample flow failure

• Extended ambient temperature range to 60°C/140°F without external cooling to increase the life of electronics and allow installation in the hottest climates



Applications include:

• Oil refining

• Gas

• Petrochemical & chemical refining

• Steelmaking

• Engineering procurement construction

• Pollution control



Safety advances include double-block process isolation and a web-enabled interface for remote data acquisition by Ethernet and Modbus. The Model 888 features the AMEVision color graphical user interface and smart diagnostics. Extensive self diagnostics monitor six temperatures and four separate pressures, with automatic adjustments in process flow. The analyzer also is equipped with steam (hot condensate) blowback to remove ammonia salts and an anti-clogging feature that  is automatically initiated if plugging is detected.



The analyzer uses the proven sample handling technique of an internal demister with two demister pads and face-to-face fittings allowing improved access and maintenance efficiency. All internal connections and components are accessible from the front of unit. The compact, rugged analyzer mounts directly on the process pipe, eliminating the complexity of fiber optic coupled photometers or sample lines.



Since the Model 888 occupies the same footprint and uses the same process connection as its predecessor, Model 880, the new unit can be substituted in less than a day. Its stainless steel housing is rated IP65/NEMA 4X for harsh outdoor operating conditions; a shelter cabinet or house is not required.



A leader in process analysis for sulfur recovery systems, AMETEK Process Instruments has more than 1,100 installed analyzers with over 100 million hours of run time.



AMETEK Process Instruments is a leader in the design and manufacture of a broad range of on-line analytical instrumentation with the industry's most extensive product line, offering analyzers based upon eleven differentiated technology platforms. It is a unit of AMETEK, Inc., a leading global manufacturer of electronic instruments and electromechanical devices with annualized sales of more than US$4.2 billion.



Product Sales Contacts:

Russia

Jochen Geiger

AMETEK GmbH

Tel: +49-2159-9136-0

email

[email protected]





UK

Jochen Geiger

AMETEK GmbH

Tel: +49-2159-9136-0

email

[email protected]





US

Randy Hauer

AMETEK Process Instruments

412-826-2494

e-mail: [email protected]