Sulfur Analyzer measures sulfur in 0-10 ppm range.
Press Release Summary: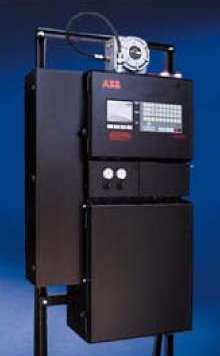 Analyze IT PGC2007 provides on-line method of measuring total sulfur in fuels with repeatability of ±0.5 ppm. Based on process gas chromatographs, it detects sulfur by using flame photometric detector. Analyzer helps refineries ensure that motor fuels meet stringent requirements for low total sulfur content.
---
Original Press Release:

Analyze IT PGC2007: ABB's Total Sulfur Solution


Lewisburg, WV, October 17, 2003 -- ABB, the leading power and automation technology group, provides total sulfur solutions with the Analyze IT PGC2007 total sulfur analyzer. Now, refineries can ensure that motor fuels (gasoline and diesel) meet the increasingly stringent requirements for low total sulfur content with the Analyze IT fuel sulfur analyzer. Few on-line process analyzers can measure total sulfur levels accurately and reliably in the 0-10 ppm range. The PGC2007 provides a field-proven on-line method of measuring total sulfur in fuels as low as 0-10 ppm with advanced performance.

The development and methods of the PGC2007 have taken place amid a growing urgency to lower the total sulfur content of hydrocarbon-based motor fuels to meet limits imposed by countries in the European Union, North America and Pacific Rim.

Based on the ABB PGC2000 Series process gas chromatographs, the
PGC2007 analyzer detects sulfur by using a flame photometric detector (FPD) and continues to be an accepted, field-proven technology with ranges as low as 0-10 ppm.

The PGC2007 is a rugged, reliable fuel sulfur analyzer and provides:
o On line Measurement of Total Sulfur
o Simple, Analysis Method for Gasolines or Diesel
o Minimal Hardware Requirement
o Proven Gas Chromatograph Technology with the Flame Photometric Detector (FPD)
o Unique Low Range Sensitivity
o Repeatability of ±0.5 ppm

ABB provides Analytical and Advanced Solutions worldwide with laboratory, at-line and on-line process analyzers systems. These integrated systems provide real-time analysis of chemical and physical properties for process monitoring and control applications.

ABB (www.abb.com) is a leader in power and automation technologies that enable utility and industry customers to improve performance while lowering environmental impact. The ABB Group of companies operates in around 100 countries and employs about 133,000 people.

For more information visit us at: http://www.abb.com/analytical

For more information please contact:
Marcia Zemanek
Communications Manager
Tel: 440-585-6830
email: chemical.info@us.abb.com

Sandra Farren
Analytical and Advanced Solutions
Tel : 304-647-1761
email : sandra.farren@us.abb.com

More from Materials