Suction Kit cleans sediment from hot water heaters.
Press Release Summary: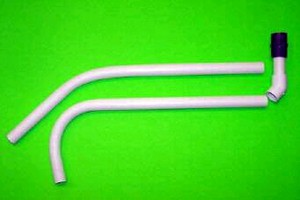 Designed for electric hot water heaters only, Sediment Suction Kit has 2 nozzles with adapter that fits both. Nozzles are inserted into bottom heater element port, while shop vacuum is hooked up to adapter to suck out sediment. Kit cleans up to 24 in. diameter tanks.
---
Original Press Release:
Water Heater Cleaner
The Sediment Suction Kit is an inexpensive new product that cleans sediment from electric hot water heaters. Sediment is a dangerous because it builds up until it reaches and shorts out the lower heater element, necessitating an expensive repair job or a new tank. This kit makes cleaning easy, so a new one does not have to be purchased and installed. Cleaning should also be done when the heater element is changed, if not the new sediment will build up on the old and very soon the new element will burn out. The Sediment Suction Kit has two special nozzles with an adapter that fits both nozzles. The nozzles are inserted into the bottom heater element port. A shop vacuum is hooked up to the adapter, and the shop vacuum sucks out the sediment. It cleans up to 24 inch diameter tanks. It will not, however, work on gas hot water tanks, only electric models. Norwalk Equipment Corp, 19 Morley Drive, Norwalk, Ohio 44857, (419) 668-8521, norwalkequip.com Press release contact person: Charles F. Marietta, President (419)-668-8521
More from Architectural & Civil Engineering Products