Subwoofers/Amplifiers provide clarity and performance.
Press Release Summary: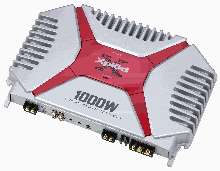 XplMd products include P5 (5-sided) woofer design and magnet assembly that allows 4-layer voice coil room to move so it can handle increased power. Available in 8, 10, 12, and 15 in. subwoofers, 2003 line provides peak power up to 1,400 W with XS-L151P5 model 15 in. subwoofer. Aluminum models XS-L1090P5 (10 in.) and XS-L1290P5 (12 in.) offer peak power of 1,200 and 1,600 W, respectively. Multi-channel amplifier models XM-280GTX and XM-2165GTX offer 400 and 1,000 W of power, respectively.
---
Original Press Release:
Sony's New Line of Xplod® Subwoofers and Amplifiers Feature in Your Face Power, Clarity and Performance
LAS VEGAS (CES, Booth #N113), Jan. 8, 2003 - Mirror-shaking bass and mind-numbing power gets even more intense with Sony's 2003 line of XplMd subwoofers and amplifiers. Introduced today, the line includes the new P5 (five-sided) design, a structure engineered to combine optimal power and performance with fierce cosmetics. "Car audio enthusiasts want power, performance and pure sound that will attract the attention of any passerby," said Bill Lee, general manager for mobile electronics at Sony Electronics. "Our new XplMd amps and P5 subwoofers definitely fit the bill." Beauty and Brawn
Lee said that the P5 architecture of the subwoofer generates optimal sound with more power, less distortion and louder output for pure sound performance. A five-sided woofer design adds structural strength and rigidity, helping the cone retain its shape. As a result, distortion and cancellation caused by standing waves are minimized, providing louder, deeper, more accurate bass response. With higher power handling and a 50 percent increase in Xmax (the distance the voice coil and cone can travel), these new subwoofers play louder and sound better. A larger magnet assembly also allows the four-layer voice coil more room to move so it can handle increased power. Available in 8-, 10-, 12- and 15-inch subwoofers, the 2003 line provides peak power up to 1400 watts with the XS-L151P5 model 15-inch subwoofer. The XS-L1090P5 10-inch and XS-L1290P5 12-inch aluminum models also feature the P5 design, offering peak power of 1200 watts and 1600 watts, respectively. They've Got D-Juice
Incorporating the five-sided chassis design, Sony's 2003 line of Class D mono amplifiers complements the P5 subwoofers. The XM-D1000P5 Class D Mono amp produces 1600 watts max power for extreme power explosion. Allowing for ultra-high power in a small chassis, the XM-D400P5 model features a smaller footprint and provides 800 watts of max power for the car audio enthusiast who wants intense sound in a limited space. Sony's 2003 line of XplMd multi-channel amplifiers steps up from last year with an improved chassis design that provides sturdy construction and an eye-catching silver design. The XM-280GTX model offers 400 watts of power with a smaller chassis than the XM-2165GTX, which offers 1000 watts of power. Both amplifiers provide more power than ever with two extra output transistors per channel and four-gauge power terminals. An added filter coil provides double the current capacity, and two 30-amp fuses pass more current for more consistent power output. The 2/1 channel amplifiers are available in two chassis sizes, allowing consumers to find their perfect fit. All of Sony's new amplifiers are equipped with ultra-quick MOSFET power supplies and output devices made to handle high volumes of current, while providing optimal frequency response and control. The amplifiers also feature variable hi-pass/lo-pass filters for improved sound quality. For additional information about Sony mobile audio products, consumers can call (800) 222-SONY, or visit Sony's Web site at: www.sonystyle.com. Contact Info:
Rachel Branch
Sony Electronics Inc.
Meredith Greenawald
Burson Marsteller
(312)596-3615
More from Fluid & Gas Flow Equipment