Suburban Collection Showplace Showcases a New Full Color HyperionPlus(TM) LED Display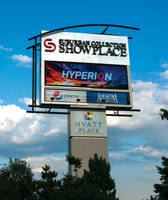 When Suburban Collection Showplace in Michigan advertises expos, conferences, banquets, and events, they will now be doing it with Electro-Matic's HyperionPlus™ LED Display board. This full color LED Message Center, along Interstate 96 in Novi, is 7' tall, 24' wide, has a 20mm pixel pitch, and with the 170 degree viewing angle, viewers can see the images, videos, and announcements up to 300 feet away!



Making an LED Display investment with Electro-Matic, is even easier with equipment leasing offerings. North Coast Capital Corporation has partnered with Electro-Matic to help deliver financial solutions for LED Digital Sign investments.



"Do I enjoy working with a 1st class manufacturing company like Electro-Matic Products? Absolutely! Through our partnership with Electro-matic, a client can receive a quality product and obtain affordable financing with little effort. Together with Electro-Matic, we can help you afford the right products and services for your company."~Mark Fecher, Founder, North Coast Capital Corporation.



Electro-Matic Products Full Color HyperionPlus™ LED Displays are all built in Farmington Hills, MI right down the road from the Suburban Collection Showplace, and has proudly been involved with many local establishments, by providing the best LED Display solutions for their business needs. Want to know how Electro-Matic can help your business, or to see examples of other LED Displays? Please visit: www.electronicmessagecenters.com.





More from Non-Industrial Products