Subtronics Capacity Expansion Anchored by Speedprint SP700avi Screen Printer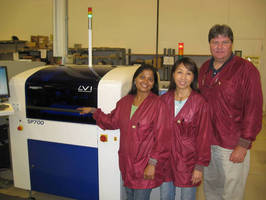 TAMPA, FL – Subtronics Assembly Corporation, an ISO 9001 certified contract manufacturer of electronic printed circuit board assemblies (PCBAs) and LED circuit boards, recently added a new state-of-the-art surface mount line that includes board handling equipment, a pick-and-place unit, a reflow oven and a Speedprint SP700avi.



"We are exceedingly pleased with the Speedprint machine," states May Xiong, SMT department lead. "The SP700 has brought significant improvements to our print process. With all the features included on the Speedprint, we are much more efficient and consistent in moving from product to product. Our operators found the machine very easy to understand, program and operate."



Subtronics works with a variety of applications, including medical, lighting, automotive, security, military and transportation, and specializes in prototype, pilot and small to medium production runs. This allows the company to work closely with its customers, delivering the highest quality product at competitive prices and providing the care and service that customers expect.



Growing from a solid foundation, Subtronics has acquired significant resources to capitalize on its experience. The company has an aggregated, experienced management team and qualified personnel with strategic supplier relationships to support its extensive customer base. These professional acquisitions have enabled Subtronics to provide a range of services with exceptional value based on the highest level of professional integrity, quality products and services underpinned by its unfailing commitment to customers, suppliers and staff.



"The support we received from Speedprint during and subsequent to the installation was excellent," says Mike Schuck, Subtronics production manager. "The upfront training was hands-on and thorough. The response to questions or issues was fast and effective. I especially like that the support staff can connect directly to our machine remotely to assist with questions during the implementation period. The machine has been a great addition and we look forward to the installation of our second SP700 that will replace our older printer on another line."



For more information about Subtronics Assembly Corp., contact the company at 847-855-6900; e-mail: customer.service@subtronics.com; Web Site: www.subtronics.com.



For more information about the Speedprint SP700avi Screen Printers, visit www.speedprint-tech.com.



About Speedprint Technology Ltd.

Speedprint Technology became a division of the Blakell Europlacer Group of companies in September 1998. Following the acquisition and re-establishment of Speedprint, the group formed a new engineering team, many of which had years of experience with locally based printer manufacturers including DEK and SMTech, to develop and enhance the company's portfolio of products. In keeping with the ethos of the Blakell Group's desire to offer flexible and innovative solutions to the market, Speedprint is committed to delivering affordable leading edge stencil printing technology. The realization of this ambition is clearly illustrated by the company's flagship avi range of fully automatic inline printers. Today, Speedprint operates from a hi-tech facility based in Poole, in southern United Kingdom.

More from Electrical Equipment & Systems