Submerged Arc Flux comes in lightweight, heavy-duty packaging.
Press Release Summary: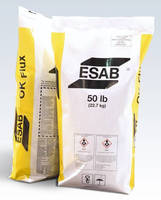 OK submerged arc welding flux is available with Flux Pack™ packaging, which uses heavy-duty LDPE (low-density polyethylene) material to protect dry agglomerated welding flux against moisture re-absorption from atmosphere. Packaging, by affording extended shelf life, ensures fresh and dry flux is ready to use for high-production SAW applications. Net weight of flux packaging is 50 lb, which helps meet EHS and ergonomic requirements of end users.
---
Original Press Release:

ESAB Introduces New Heavy-Duty Packaging for Submerged Arc Flux



Florence, SC – ESAB Welding & Cutting Products introduces new Flux Pack™ packaging for its OK line of submerged arc welding flux. The new packaging uses heavy-duty LDPE (low-density polyethylene) material to effectively protect dry agglomerated welding flux against moisture re-absorption from the atmosphere. The packaging has an extended shelf life, ensuring fresh and dry flux is guaranteed ready to use for high-production SAW applications.



ESAB's new Flux Pack features a robust construction that minimizes freight and handling damage. With the launch of Flux Pack, ESAB has also changed the net weight of its flux packaging from 55 pounds to 50 pounds to better meet the EHS and ergonomic requirements of many end users.



The new packaging platform is part of recent updates made to ESAB's SAW wire and flux production in North America to address demand for SAW welding consumables. These updates include increased manufacturing space and new production equipment dedicated to SAW flux production at ESAB's Hanover, PA filler metals facility. In addition, new manufacturing lines for SAW wire will be on line at the company's Midway Drive in Union County, SC facility before the end of the year. The investments will boost capacity and ensure tighter manufacturing control of SAW filler metals for uniform finished products. These products include ESAB's Spoolarc® SAW wires and OK Fluxes for various grades of carbon steel, low alloy steels and stainless steels.



Submerged arc welding offers very high deposition rates and travel speeds, generally with automated equipment. ESAB is a leading provider of automated submerged arc welding equipment, SAW wire and flux, and is uniquely qualified to recommend the exact combination of wire and flux to fit an application.



ESAB's full line of submerged arc flux and wire products serve the industry with all the advantages of the SAW process:

High productivity with deposition rates as high as 100 pounds per hour

Travel speeds up to 150 inches a minute single wire or up to 220 inches per minute with multiple wires

Operating factor approaching 100%

Deepest penetration, up to 1 ½" thick in a single pass

High operator comfort, no visible arc or spatter

High quality and repeatable results

Environmentally friendly process



ESAB Welding & Cutting Products is a recognized leader in the welding and cutting industry. From time-honored processes in welding and cutting to revolutionary technologies in mechanized cutting and automation, ESAB's filler metals, equipment, and accessories bring solutions to customers around the globe. For more information, visit www.esab.com or call 1-800-ESAB-123.



FOR MORE INFORMATION, CONTACT:

Dwight Myers

717-817-3244

dlmyers@esab.com



Anthony Avila

301-346-7836

aavila@esab.com

More from Agricultural & Farming Products