Sub-Assemblies suit 10 Gbps optical fiber systems.
Press Release Summary: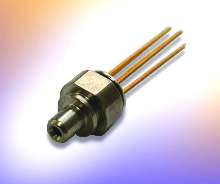 Receiver Optical Sub-Assemblies optimize performance of 10 Gbps transceivers using electronic dispersion compensation. Multi-mode Model VSK10R07-06 incorporates photodetector with linear pre-amplifier for 1310 and 1550 nm systems. It features bandwidth of 8 GHz, sensitivity of -13 dBm, and dynamic range greater than 15 dB. Single-mode Model VSK10R09-06 operates at 1310 and 1550 nm and achieves sensitivity of -17 dBm, 19 dB dynamic range, and bandwidth of 8 GHz.
---
Original Press Release:
VSK Photonics' New 10 Gbps ROSA Product Line

October 14, 2003 - Lake Forest, CA - VSK Photonics, Inc. announces a line of receiver optical sub-assemblies (ROSAs) for 10 Gbps fiber optic communication systems. The new multi-mode and single-mode ROSAs are designed to optimize the performance of short reach 10 Gbps transceivers utilizing electronic dispersion compensation.

The new VSK10R07-06 ROSA for multi-mode incorporates a high-performance photodetector with a linear pre-amplifier to provide excellent performance in 1310 and 1550 nm systems. VSK's proprietary chip design enhances performance in multi-mode systems with off-axis launch. With a bandwidth of 8 GHz, a sensitivity of minus 13 dBm, and dynamic range greater than 15 dB, the VSK10R07-06 ROSA easily exceeds all performance requirements for OC192-SR1 transceiver modules.

The VSK10R09-06 ROSA specified for single-mode optical fiber systems operates at 1310 and 1550 nm. This new receiver optical sub-assembly achieves a sensitivity of minus 17 dBm, 19 dB of dynamic range, and a bandwidth of 8 GHz. The VSK10R09-06 ROSA exceeds all performance criteria for 10 Gbps Ethernet LR and ER transceivers, delivering performance comparable to more costly pigtailed receiver modules.

VSK's single- and multi-mode ROSAs are both available in 5 pin TO-46 headers with a cap and sleeve. Configured to mate with LC connectors, the cost effective packaging is designed to deliver optimum high-speed performance. Engineering samples are now shipping, with full production slated to begin in Q4 2003.

About the Company:

VSK Photonics, Inc. leverages its state-of-the-art Indium Phosphide (InP) wafer fabrication facility, integrated design capability and proprietary packaging technology to deliver reliable, high speed optoelectronic integrated circuits (OEICs) for the next generation of optical networking systems. For more information, please visit: www.vskphotonics.com

VSK Photonics, Inc.

100 North Pointe Drive

Lake Forest, CA 92630

Contact: Timothy Vang

Phone: 949-586-2202 x218

FAX: 949-586-1199

e-mail: tvang@vskphotonics.com

Web Site: www.vskphotonics.com
More from Agricultural & Farming Products