Students Use Bearings from Igus to Aid Children with Cerebral Palsy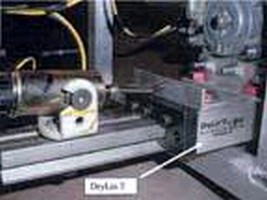 Spherical and linear bearings used on basketball shooter device

EAST PROVIDENCE, R.I. - February 12, 2008 - igus® Inc., the leading developer of Energy Chain Systems®, Chainflex® continuous-flex cables and iglide® plastic bearings, today announced that students from Iowa State University used igubal® spherical bearings, DryLin® R linear bearings and DryLin linear guide systems to develop a basketball shooter. The device enables children with Cerebral Palsy to participate in basketball games with friends.

The shooter, which can attach to any wheelchair and is push-button activated, uses igubal flange and pillow block bearings to hold the shaft and enables the shot mechanism to be pulled back at radial loads of 250 pounds. The bearings deliver low-friction, which ensures minimal energy is wasted when transferring power from the motor to the pullback spring. When the motor and clutch are disengaged, the low-friction enables the shaft to freely spin at large angular velocities. Minimal angular misalignment occurs, as the shaft accelerates vertically.

DryLin T and DryLin W linear guide systems are also used on the shooter systems. These deliver a convenient, low-friction way to engage and disengage the mechanical clutch. The students from Iowa State hope the shooter device will aid sufferers of Cerebral Palsy in enjoying an activity they normally could not.

igubal spherical bearings from igus are a complete system of oil-free, self-aligning polymer components, which include spherical, pillow block and rod ends bearings. igubal can be used in industries from medical technology to food processing to automotive production.

DryLin T is a maintenance-free, adjustable profile guide rail, which is dimensionally interchangeable with most traditional, re-circulating ball guides and completely corrosion-resistant. It is comprised of a hard-anodized aluminum T-shaped rail and a clear-anodized-aluminum adjustable carriage. The guiding elements are made from igus' iglide® J polymer material blend, which is characterized by its low friction properties.

DryLin W has a very low clearance and is available in multiple rail configurations to provide various design options.

For free samples of any of these products, contact an igus design technician at 1-888-803-1895.

About igus

igus Inc., founded in 1985 and based in East Providence, R.I., develops and manufactures industry-leading plastic cable carriers, continuous-flex cables, plastic bearings and linear guide systems. With more than 28,000 products available from stock, the company meets the motion control and machinery component needs of customers worldwide. Product lines include Energy Chain Systems to protect and house moving cables, Chainflex continuous-flex cables, iglide self-lubricating, oil-free, plastic bearings, DryLin linear guide systems and igubal spherical bearings.

For more information, contact igus at (800) 521-2747 or visit www.igus.com.

Related