Students at the University of Buffalo Rely on Products from Igus to Make Their Hiding-Apparatus Project a Success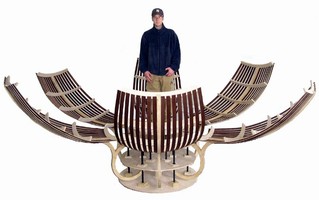 EAST PROVIDENCE, R.I. - March 29, 2007 - Igus® Inc., the leading developer of iglide® plastic bearings, DryLin® linear bearings and Energy Chain Systems®, today announced that students studying architecture at the University of Buffalo used donated igubal® spherical bearings and DryLin S aluminum shafting on a unique project. The team of fifteen, which was challenged to design and build a device capable of hiding a person, created a mechanical system equipped with a circular platform that reacts to an individual's weight. When someone steps onto the platform, the added load causes large, rounded walls to close and encompass the person from all sides, hiding them from outside view. Once they step off the platform, the walls automatically return to an open position. The hiding apparatus uses igubal and DryLin S on all of its moving parts.

Prior to employing igus components, the students tried wooden dowels to support the moving structure. The dowels failed, prompting the team to find an alternative. Through igus' Y.E.S. (Young Engineers Support) Program, which fosters the design aspirations of students by providing free products for a real-world engineering experience, the University of Buffalo team received free samples of bearings and shafting. The team chose igubal spherical bearings because they are lightweight, self-aligning, self-lubricating and maintenance-free.

"We realized that the igus bearings and aluminum shafting permitted smooth structural movement," said Adam Krywinski, a University of Buffalo team member. "We really appreciate the donation from igus. We received an "A" for our work and the project was a great success."

To learn more about the Y.E.S. Program, visit www.igus.com/yesprogram or contact Courtney Toomey via e-mail at ctoomey@igus.com.

About igus
Igus Inc., founded in 1985 and based in East Providence, R.I., develops and manufactures industry-leading plastic cable carriers, continuous-flex cables, plastic bearings and linear guide systems. With more than 28,000 products available from stock, the company meets the motion control and machinery component needs of customers worldwide. Product lines include Energy Chain Systems to protect and house moving cables, Chainflex® continuous-flex cables, iglide self-lubricating, oil-free, plastic bearings, DryLin linear guide systems and igubal spherical bearings. For more information, contact igus at (800) 521-2747 or visit www.igus.com.

More from Fluid & Gas Flow Equipment