Stud Bumper targets flip chip market.
Press Release Summary: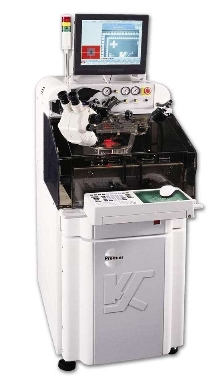 Using hardware and software technology, ATPremier Stud Bumping Machine bonds 36 standard bumps/sec at 60 µm pitch. Since stud bumping does not require under bump metallurgy, bonding can be performed in single step. Wafer-Mapping interface bonds only known good die.
---
Original Press Release:

Kulicke & Soffa Releases The New Advanced Technology (AT) Premier Stud Bumper


WILLOW GROVE, PA, March 15, 2004 -- Kulicke & Soffa Industries, Inc. (NASDAQ: KLIC) has just released a new advanced Stud Bumping Machine. The ATPremier offers many technology advancements specifically designed for the growing flip chip market.

"Many of our global customers have been asking for greater stud bumping speed, lower impact force, and finer pitch capability, in a platform with wafer specific productivity enhancements," states Christian Rheault, K&S Vice President, IC Ball Bonders. "The new ATPremier delivers them all."

Using new hardware and software technology, this next generation, high-speed stud bumper provides greatly reduced cost-of-ownership compared to existing stud bumping products. Offering the fastest bumping speeds in the market along with the smallest footprint, ATPremier maximizes the use of resources and clean room space. Currently, the ATPremier bonds 36 standard bumps/second at 60 µm pitch. This represents an 87% speed improvement over our previous platform the Wafer Pro Plus. As stud bumping does not require under bump metallurgy, bonding can be performed in a single step. Competing technologies use many process steps to bump a wafer.

Customers will see cost savings using the new Wafer-Mapping interface by bonding only known good die. Current practices process the entire wafer, consuming materials and time on chips that are known to be bad from previous testing steps. Developing programs for the machine is shorter than ever with Step-and-Repeat teaching. This keeps the bonder producing product, rather than teaching programs.

Jack Belani, Senior Vice President of K&S' Wire Bonding Division and Corporate Marketing, explains, "The quantum leap in productivity offered by ATPremier takes K&S to a whole new plateau, enabling greater range of applications that were previously limited to more expensive flip chip interconnect. We are very excited about this revolutionary higher bump speed capability and plan to target new market segments for our stud bumper."

The new ATPremier Stud Bumper will be engaged in customer qualifications in April, and will be ready for production shipments by June 2005. For more data on the new K&S Stud Bumper, visit our web site at: www.kns.com/Templates/showpage.asp?TMID=164&FID=277&PID=3298 .

About K&S
Kulicke & Soffa (NASDAQ: KLIC) is the world's leading supplier of semiconductor wire bonding assembly equipment. K&S is the only major supplier to the semiconductor assembly industry that provides customers with semiconductor wire bonding equipment along with the complementing packaging materials and test interconnect products that actually contact the surface of the customer's semiconductor devices. The ability to control all of these assembly related products is unique to Kulicke & Soffa, and allows us to develop system solutions to the new technology challenges inherent in assembling and packaging next-generation semiconductor devices. Test interconnect products include a variety of wafer probe cards, ATE interface assemblies, and ATE boards for wafer testing, as well as test sockets for all types of packaged semiconductor devices. Kulicke & Soffa's web site address is www.kns.com.

More from Laboratory and Research Supplies and Equipment