Stud Bumper handles 12 in. wafers in one pass.
Press Release Summary: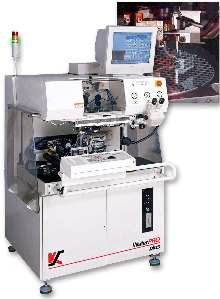 WaferPRO plus single-pass stud bumper bonds 22 bumps/sec, depending on bump type, size, and pitch. It offers +5 µm positional accuracy at 3 sigma and can bump down to 65 µm. Various manual chucks and fully automatic wafer handling options are available. WaferPRO plus kit, which includes hardware, specialized servo code, and motion profiles, provides upgrade path for existing WaferPRO users.
---
Original Press Release:

Kulicke & Soffa Announces WaferPRO plus(TM) As Next Generation in Stud Bumping Technology


WILLOW GROVE, PA, May 5, 2004 -- Kulicke & Soffa Industries, Inc. (NASDAQ: KLIC) introduces a new high-speed, single-pass stud bumper that handles wafers up to 300 mm. The WaferPRO plus bonds 22 bumps-per-second, depending on bump type, size and pitch. It offers + 5 µm positional accuracy at 3 sigma and can bump down to 65 µm. This next-generation K&S stud bumper offers large table travel to handle 12" wafers in a single pass.

K&S is also offering the new WaferPRO plus kit that provides a fast upgrade path for all existing WaferPRO customers. By installing the kit, which includes hardware, specialized servo code, and motion profiles, customers can increase the performance of their existing WaferPRO stud bumpers to 22 bumps-per-second. "The higher productivity offered by the WaferPRO plus provides our customers with an additional degree of freedom vs. plating and screen-printed bumping processes for some of their applications," notes Jack Belani, K&S Vice President Marketing and Business Units.

K&S offers a wide selection of manual chucks and fully automatic wafer handling options with the new WaferPRO plus. Val Taruntaev, Vice President of K&S Microelectronics Business Unit, states, " With the recent upturn in the semiconductor industry, productivity is the key for our major accounts. This high-speed, single-pass stud bumper will provide a speed improvement of up to 30% over existing technology."

K&S will release the WaferPRO plus for full production in May 2004. Upgrade kits will be shipped upon request from WaferPRO customers globally.

About K&S

Kulicke & Soffa (NASDAQ: KLIC) is the world's leading supplier of semiconductor wire bonding assembly equipment. K&S is the only major supplier to the semiconductor assembly industry that provides customers with semiconductor wire bonding equipment along with the complementing packaging materials and test interconnect products that actually contact the surface of the customer's semiconductor devices. The ability to control all of these assembly related products is unique to Kulicke & Soffa, and allows us to develop system solutions to the new technology challenges inherent in assembling and packaging next-generation semiconductor devices. Test interconnect products include a variety of wafer probe cards, ATE interface assemblies, and ATE boards for wafer testing, as well as test sockets for all types of packaged semiconductor devices. Kulicke & Soffa's web site address is www.kns.com

More from Machinery & Machining Tools