Stroboscopic Light provides web inspection.
Press Release Summary: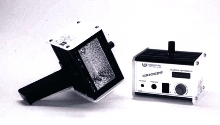 Cricket stroboscopic light is designed for printed web inspection at full production speed. Light output is 500 Lux at 12 in. at 3000 flashes/min or 250 Lux at 12 in. at 6,000 flashes/min. Articulating arm provides reach up to 45 in. Strobe light is totally enclosed in heavy-duty housing and has rectangular reflector for even illumination over 5 x 8 in. coverage area. It can be used as handheld or permanently mounted unit, powered by battery or AC power.
---
Original Press Release:
Unilux To Introduce Cricket At Label Expo 2002 For Web Inspection, Speed Measurement, Machine Vision

SADDLE BROOK, NJ July 3, 2002 - Unilux Inc. (www.unilux.com) is
outshining the spotlight with the introduction of the hand-held Cricket stroboscopic light for printed web inspection at full production speed. The light will be unveiled at Label Expo 2002, Sept. 10-12 in Chicago, Booth 1657. The light also can be used for speed measurement and machine vision applications.

In addition to the new Cricket, Unilux will be displaying a full line of stroboscopic lighting products for full width web inspection. New equipment displayed will include the smaller, more powerful Sentry Lighting System, capable of providing 100 percent coverage of web widths up to 100 inches; Miti Lite, the most powerful battery-operated, hand-held strobe available, and the new, cost effective Miti Lite, Jr., which will be demonstrated. Unilux also will demonstrate the UV inspection kit and show its low-profile Lith-O-Light line of strobes.

"We've had a lot of success in South America, where printers and
converters have found that the Cricket is brighter and covers a wider area more evenly than the hand-held spotlights they were using to find defects," said Jim Thomas, vice president, sales. "With a similar price to a spotlight, it's proving to be a very good value for them. With its portability and flexibility, we believe it can be a good value for any printing or converting operation."

The versatile Cricket can be used as a handheld, or permanently mounted unit, powered by either a battery or AC power. It has a light output of 500 Lux at 0.3m (12 inches) at 3000 flashes per minute or 250 Lux at 0.3m at 6,000 flashes per minute. It can be mounted over a press, slitter or rewinder with an articulating arm that provides a reach up to 1.15m (45 inches). The available battery kit includes a handle with an on-off trigger, battery and charger. Batteries can be changed by simply sliding open the housing at the bottom of the handle.

The Cricket features a five-digit LED display. It can be triggered internally with a 10-turn high-resolution control or externally by either an optoisolated pulse or by a non-isolated contract closure or open collector signal. The strobe light is totally enclosed in a heavy-duty housing and has a rectangular reflector for even illumination over its 125mm-by-200mm (5-by-8 inch) coverage area.

The Cricket uses the stroboscopic effect to enable operators to see defects as presses, slitters and rewinders move at full production speed. The light's pulses essentially freeze images, revealing flaws such as misprints, smears and misalignments. The defective areas can be marked for removal from the production run before more expensive finishing work or before shipment to customers.

Unilux Inc., headquartered in Saddle Brook, NJ, has more than 40 years of experience in the design and manufacture of industrial surface inspection lighting systems for the printing/converting, metals and papermaking industries and heavy-duty strobe lighting systems for the film and video industry. For additional information, contact Unilux, Inc., 59 North Fifth St., Saddle Brook, NJ 07663 USA. Phone: 800-522-0801 (US only) 201-712-1266 (Worldwide) Fax: 201-712-1366 Internet: www.unilux.com.

For Additional Information:

Mike Simonis

Unilux Inc.

+1-201-712-1266

msimonis@compuserve.com

Stan Schnitzer

Schnitzer Associates

+1-973-535-8842

schnitz@spacegate.com
More from Electronic Components & Devices