Stripping Pot cleanly strips magnet wire.
Press Release Summary: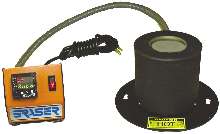 Magnet Wire Stripping Pot strips film insulations from magnet wires of all sizes, types, and configurations. Wires are dipped into stripping solution that removes insulation without causing mechanical stress, material loss, or abrasion to wire. Model DSP1 has temperature control, while DSP2 has programmable temperature control for selecting and maintaining exact temperature. Both models are available in 115 V, 60 Hz or 220/240 V, 50/60 Hz.
---
Original Press Release:
The Magnet Wire Stripping Pot Offers Clean Stripping of Magnet Wire

The Magnet Wire Stripping Pot is used to strip film insulations from magnet wires of all sizes, types and configurations. The wires are dipped into the stripping solution to quickly remove the insulation. This stripping method will not cause any mechanical stress, material loss or abrasion to the wire. The units are available in two models. The DSP1 has a temperature control. The DSP2 has a programmable temperature control for selecting and maintaining an exact temperature. Both models are available in 115V 60Hz or 220/240V 50/60Hz.

Since 1911, The Eraser Company of Syracuse, NY has manufactured a wide range of industrial products including wire, cable and tubing cutters, wire and cable strippers, wire twisters, wire brush wheels, fiber optic tools, dereelers, infrared heating equipment, measuring tools, and fybRglass® erasers. The company is ISO 9001:2000 certified. The company offers Free E.S.P. (Eraser Sample Program). Send a 5-10 foot sample of your material and Eraser will recommend the best solution for your processing needs from its line of more than 200 products. For unique processing needs, Eraser will custom design a solution for you. For more information on Eraser's entire product line visit www.eraser.com or call 315-454-3237.

DATE: March 26, 2004
More from Explosives, Armaments, and Weaponry