Stripper removes jacket from 3 mm fiber optic cable.
Press Release Summary: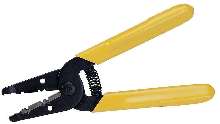 Model 45-349, capable of removing jacket from simplex and duplex 3 mm zip cord cables, incorporates precise knife-type, form-ground blades that cleanly penetrate outer jackets. Underlying Kevlar strength member and fiber are left undamaged to ensure optimal connections. Contoured, comfort-grip handles reduce operator fatigue.
---
Original Press Release:
Versatile IDEAL Stripper Removes Jacket from Simplex and Duplex 3mm Fiber Optic Cable

SYCAMORE, IL, May 13, 2003 - IDEAL today unveiled its new Model 45-349, a versatile, ergonomic stripper capable of removing the jacket from both simplex and duplex 3mm fiber optic (zip cord) cables - an industry first.

"Our new stripper represents a versatile, cost-effective alternative to purchasing and carrying two separate strippers for Simplex and Duplex cable," notes Tom Reinert, Product Manager- Fiber Optic Tools, IDEAL INDUSTRIES, Inc. "We've received overwhelming customer demand for tools that do more for less, but that do not compromise results."

Mindful that fiber connections are only as good as the tools used to make them, IDEAL engineers built into the Model 45-349 extremely precise knife-type, form-ground blades that cleanly penetrate outer jackets. The underlying Kevlar strength member and the fiber are left undamaged to assure the best connections.

Like all IDEAL hand tools, the Model 45-349 is remarkably comfortable to use, thanks to its contoured, comfort-grip handles that reduce operator fatigue.

Today's introduction marks the latest new product from the company's rapidly expanding fiber optic tool line, including strippers, cutters, scribes, polishing fixtures and films, swabs, crimpers and microscopes.

For more information, contact IDEAL INDUSTRIES, INC., Becker Place, Sycamore, Illinois 60178. Phone 1-800-947-3614, Fax: 1-800-533-4483. On the web, www.idealindustries.com.

IDEAL INDUSTRIES, INC. has been serving the electrical industry since 1916. IDEAL is one of the world's leading manufacturers of professional quality tools and supplies serving installation professionals in the construction, maintenance, data communications and original equipment manufacturing industries.
More from Material Handling & Storage