Sensors / Detectors / Transducers
String Potentiometer offers 4-20 mA and 0-10 Vdc output.
Press Release Summary: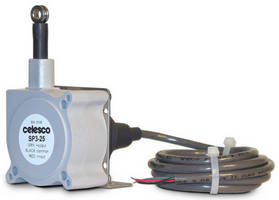 Featuring measurement range of 4.75-50 in., SP3 sensor operates from 12-32 Vdc and provides user-selectable 4-20 mA or 0-10 Vdc output signal. Desired output signal is selected by connecting appropriate signal wires, and water-resistant polycarbonate body is designed for tight spaces. Able to accommodate measuring cable misalignment, sensor features free release tolerance and is offered with stroke ranges of 0-4.75, 0-12.5, 0-25, and 0-50 in.
---
Original Press Release:
Two In One; 4-20 mA and 0-10 Volts in One Low Cost Stringpot
Celesco Transducer Products has released what many feel may be one of the most innovative stringpots of its kind in the industry, one that offers measurement ranges to 50 inches. Available for immediately delivery and in stock, Celesco's SP3 sensor is receiving rave reviews. This compact, low-cost stringpot provides a user selectable 4-20 mA or 0-10 Vdc output signal and takes just 12-32 Vdc to operate. This sensor can be easily installed using the handy mounting bracket and desired output signal selected by simply connecting the appropriate signal wires. Constructed with a rugged, water resistant polycarbonate body, the SP3 has been designed for tight spaces, generous measuring cable misalignment and free release tolerance. In all the SP3 offers four different ranges and thus can function as an ideal solution for many applications from light industrial to large, global OEMs. These stroke ranges include 0-4.75, 0-12.5, 0-25 and 0-50 inches. "Our series of SP3 sensors are extremely simple to use and work well in many different types of applications," said Celesco General Manager Jim Bishop. "It is water resistant, works well at various temperatures and is very flexible." Measuring anywhere from 4.75 to 50 inches, the SP3 series of sensors lets the user choose between a 4-20 mA output or a 0-10 volt dc output signal. Other key applications and benefits of the SP3 include:
Low cost, in stock and available for immediate delivery
Hook up 2 wires for 4-20 and 3 wires for 0-10.
Water resistant rugged polycarbonate enclosure
Electrical connections made via 40-inch long shielded electrical cable.
Handy mounting bracket that lets the user mount the sensor in just about any direction.
4 available stroke ranges from 4.75 inches up to 50 inches.
Operating temperature: 0 to 160 F ABOUT CELESCO Celesco Transducer Products, Inc. designs and manufactures a wide range of linear and rotary measurement transducers that set the standard for easy and reliable position measurement. Founded in 1968, the company has a history of engineering and manufacturing transducers of the highest quality, for exacting applications such as industrial process control, medical equipment, automotive testing and flood-control projects. As the world's largest volume supplier of cable extension "string-pot" position transducers, Celesco has an extensive range of standard product lines that have short lead times. The company also produces specialized, high-volume OEM transducers, a standard line of shaft-driven rotational position transducers, as well as a line of magnetically damped inclinometers. Celesco transducers are proven to be reliable, cost effective, and easy to install and maintain. OEMs and end-users choose Celesco transducers because of their confirmed high accuracy, resolution and repeatability. Visit Celesco's website at www.celesco.com or call 818-701-2750 or toll-free at 800-423-5483 for more information.
More from Mechanical Components and Assemblies