Stretched Blast Cabinet has illuminated interior.
Press Release Summary: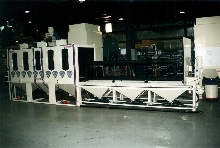 Model 999 extended pressure-blast system, with added weight capacity and component-handling facilities, is designed for blast treatment of large tube and pipe fabrications. Its 48 x 48 x 144 in. work envelope is fitted with multiple blast nozzles that can be used from each of 6 operator workstations. Cabinet is equipped with track extension and transfer cart that moves by means of ball screw-ball nut mechanism driven by electric gear motor.
---
Original Press Release:
"Stretched" Blast Cabinet

January 2, 2002 - Saratoga Springs, NY - Guyson Corporation has introduced an extended pressure-blast system with added weight capacity and special component-handling facilities for blast treatment of large tube and pipe fabrications. The machine is designed for applications such as selective or overall coating removal, descaling, blast cleaning and surface preparation.

The Model 999 has a 48" x 48" x 144" work envelope fitted with multiple blast nozzles that can be conveniently used from each of six operator workstations. The extra long cabinet is equipped with a track extension and a transfer cart that moves in and out of the blast machine by means of a powerful ball screw-ball nut mechanism driven by an electric gear motor. When the shuttle cart is fully outside the cabinet, there is easy access for loading of heavy pipe components by forklift, hoist or overhead crane. Catch-hoppers under the track extension collect carry-out media and return it to the system's cyclone separator and reclaimer.

Mounted on the transfer cart of the Model 999 are two sets of heavy-duty urethane covered rollers to support and rotate cylindrical workpieces. The powered rollers at the door end of the trolley are aligned with movable non-powered rollers, the spacing of which can be easily adjusted to accommodate pipe fabrications of various lengths.

The direct pressure blast system can operate with any type of impact treatment media, from plastic grit for dry stripping to fast-cutting mineral abrasives for heavy descaling and surface profiling work. A six cubic foot pressure vessel allows an extended period of continuous blasting without the need to pause for recharging, enabling the fastest possible coverage of large surfaces. Media delivery to the blast nozzles is turned on and off by foot-operated pedal switches, and blow-off nozzles are located within easy reach of each blast station.

The Model 999 has extra large, abrasion-protected windows for viewing inside the brightly illuminated blast chamber. The interior of the cabinet can be fully lined with neoprene rubber, and molded urethane ducting can be installed between the media collection hoppers and the reclamation system for maximum abrasion resistance.

The Saratoga Springs, NY, manufacturer of custom-engineered blast equipment offers many larger and smaller manual cabinet systems to meet customers' special requirements, as well as an extensive range of automated blast machinery. Prospective users are encouraged to submit sample components for free blast testing in the company's application engineering laboratory.
More from Sensors, Monitors & Transducers