Stretch Wrapping System unitizes unstable loads.
Press Release Summary: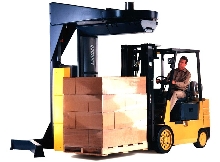 SXT Stretch Wrapping System features 12 rpm arm that wraps up to 35 loads per hour. Maximum load weight is determined by capacity of floor. SXT automatically attaches and cuts film, allowing operator to drive up, position load, start machine and drive away without getting off forklift. Diagonal load capacity of 90 in. allows for maximum load size of 56 x 56 in. Intelli-sensor feature eliminates problems associated with difficult-to-detect loads.
---
Original Press Release:
Lantech's SXT Stretch Wrapping System Unitizes Tall, Lightweight and Unstable Loads and Features Simple Automation(TM) To Keep Operator On The Forktruck

Louisville, KY - Lantech's SXT straddle stretch wrapping system offers the ultimate in stretch wrapping ease of use, uptime, and safety. The Simple Automation(TM) feature is designed to allow your forktruck operator to spend more time behind the wheel, and less time getting on and off the forktruck. Simple
Automation(TM) completely eliminates stooping and reaching to attach or cut film, improving workplace ergonomics. In addition, the system is backed by a three year - all component - unlimited cycle "Built Tough" warranty.

Because the load does not rotate, the S-Series system is ideally suited for unusually tall, light or unstable, as well as very heavy loads. This machine is well suited for industries such as grocery distribution, logistics, and fulfillment houses. These fast-paced order pick environments are focused on increasing productivity and better load containment. The maximum load weight is determined only by the capacity of the floor. The 12 RPM wrap arm can wrap up to 35 loads per hour.

The SXT automatically attaches and cuts the film, allowing the forktruck operator to simply drive up, position the load, start the machine with a lanyard switch, and drive away - without ever getting off the forktruck. And removing the load from the system is also simple. Since the film is automatically cut, the load is ready to go allowing the forktruck operator to drive up, pick up, and move on. This ability to manage the forktruck traffic significantly improves workflow.

Requiring minimal floor space, the S-Series system can even be placed in an aisle-way, allowing drive through when not in use. The system includes a standard floor mount and sturdy support
column, eliminating the risks associated with mounting the unit to your wall or structural building columns.

The S-Series system is virtually maintenance-free, with only the ring bearing requiring lubrication every six months. Patent pending features such as E-Z Thread(TM) roll carriage and a membrane control panel reduce labor costs and increase productivity.

The SXT system comes with the new intelli-sensor(TM) sensing device featuring patented technology to eliminate problems associated with difficult-to-detect loads such as those that are
dark, rough or ribbed (tires), round (pails, drums), or low density (PET bottles). The intelli-sensor(TM) is factory pre-set for each system and requires no adjustments at all, eliminating the guesswork of calibrating and adjusting conventional sensing devices. Lantech backs the intelli-sensor(TM) sensing device with a full three-year unlimited cycles warranty.

Since the product rests on the floor during the wrap cycle, the load can be positioned with either pallet jacks or forktrucks. The large 90" diagonal load capacity allows for a maximum load size of 56" x 56".

The SXT system includes standard safety features that are unparalleled in the industry. Each wrap cycle start-up is preceded by both visual and audible alarms. A full 14" clearance is allowed between the roll carriage and the support column. Any contact with the wrap arm safety shield activates the emergency stop condition, immediately stopping the wrap arm. It also includes a visual signal to indicate correct load placement.

Lantech's packaging solutions include Q-Series(TM) turntable and S-Series(TM) straddle stretch wrapping systems, Lan-ringer® stretch packaging systems, Q-Pal(TM) Palletizer-Stretch Wrapper
systems, C-Series(TM) automatic case erectors, and Lantech-built Conveyor systems. Lantech is the world's largest manufacturer of stretch wrapping and bundling systems with products sold and serviced through the U.S. and around the world by a network of more than 150 distributor locations.
Related