Stretch Wrapping Machine delivers flexibility and efficiency.
Press Release Summary: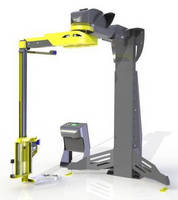 For manufacturers looking to wrap large and oddly shaped loads that are unstable or heavy, semi-automatic Cobra® Plus features rotating arm technology that keeps pallet loads in place while stretch wrapping. Arm can be adjusted to achieve wrapping diagonal of 78 or 87 in., and motorized power pre-stretch system with adjustable film tension control ensures optimal film usage as well as load containment. Able to wrap up to 35 pallets/hr, system offers touchscreen HMI to aid operation.
---
Original Press Release:

ITW Muller offers Greater Stretch Wrap Flexibility and Efficiency with Cobra® Plus



--New Machine Enhances Cobra Line of Semi-Automatic Stretch Wrappers--

Arlington Heights, IL - ITW Muller, a leading manufacturer of both innovative stretch wrap equipment and high quality stretch wrap film, introduces the latest addition to its stretch wrapping solutions, the Cobra Plus Semi-Automatic Stretch Wrapping Machine. The Cobra Plus is ideal for manufacturers looking for a versatile machine that can wrap large and oddly shaped loads that are unstable or very heavy.

"We enhanced the Cobra line with the Cobra Plus to give our customers more flexibility," says Dan Schmidt, Business Development Manager at ITW Muller. "Given the advanced functionality of the HMI, durability of the design, and ease of adapting to varying load sizes, this stretch wrapper can meet the changing needs of our customers today and in the future."

The rotating arm technology keeps pallet loads in place while stretch wrapping. The arm can be easily adjusted to achieve a wrapping diagonal of 78" or 87"- offering versatility at no additional cost. The Cobra Plus comes standard with an independent floor stand, but can also be mounted to a column or wall.

A motorized power pre-stretch system with adjustable film tension control guarantees Cobra Plus users optimal film usage. Film tension control ensures superior load containment and helps eliminate film breaks and product damage. The Cobra Plus is also equipped with a touch-screen HMI for simple operation and versatility. The program includes controls that allow for adjustment to the number of wraps, wrap pattern, film tension, overlap, overwrap and speed.

"We are consistently looking for ways to meet the needs of our clients," says Schmidt. "Ever-changing demands in the warehouse and plant floor require flexible solutions - and the Cobra Plus is the answer to these demands."

The Cobra Plus can wrap up to 35 pallets per hour. It can also pre-stretch film up to 260% and wrap pallets up to 116" high or an 86"diagonal.

For more information about ITW Muller, its products and services, visit online: www.itwmuller.com or contact directly at email: sales@itwmuller.com, phone: 1-800-OCTOPUS (1-800-628-6787).

About ITW Muller
ITW Muller, a division of Illinois Tool Works is a leading manufacturer of both innovative stretch wrap equipment and high quality stretch wrap film. Headquartered in Arlington Heights, IL, the company provides a single source for all stretch packaging needs. ITW Muller's highly regarded Octopus(TM) stretch wrapper line, along with other reliable equipment such as the Cobra(TM) and Raptor(TM), provide customers with a wide range of solutions. In 2012, ITW Muller added the Yellow Jacket brand orbital stretch-wrapping equipment and services to its offerings. The equipment locks uneven and oddly-shaped loads to the pallet, offering a quick and secure wrap. Also in 2012, ITW Muller added GaleWrap® Oriented Film and Oriented Equipment to its product offerings. As an alternative to conventional hand wrapping, GaleWrap Oriented Film and Equipment offer increased wrapping productivity, enhanced employee safety, improved load containment and lower total pallet wrapping costs.

With the help of an extensive engineering team and talented manufacturing technicians, Muller has a proven history of developing distinctive machines and innovative options to satisfy some of the most difficult stretch wrapping challenges. Crystal clear, high quality cast stretch films are manufactured using a sophisticated 5-layer extrusion process at an ITW Muller facility in Orange, Texas. Products include the Eliminator(TM) and Reducer(TM) machine films. Strategically located just outside Atlanta, Georgia, ITW Muller's Douglasville stretch film manufacturing facility produces millions of pounds of blown stretch film annually on state-of-the-art equipment. Meeting the needs of both hand and machine film applications, products include GaleWrap and impact(TM) hand films and the STTM machine film. The facility adheres to strict quality control procedures to assure consistent, problem-free product.

Christina Eyuboglu
Marketing
910 399 1122

More from Electrical Equipment & Systems