Street Lights feature hermetically sealed optical system.
Press Release Summary: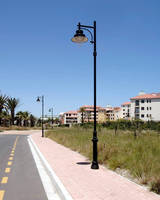 Albany luminaires feature corrosion-resistant aluminum construction and ballast module that twists off for relamping and maintenance. They incorporate Sealsafe® hermetically sealed optical unit, which is constructed of aluminum and features reflector bonded to lens. Units can be installed on poles from 16-23 ft high and are available in Maxi size with luminaire height of 26.8 in. and 27.6 in. dia and Midi model at 23 in. tall with 23.2 in. dia.
---
Original Press Release:

Schréder Lighting USA Introduces Versatile ALBANY Street Lighting Series Featuring Sealsafe® Optical System in the US



Versatile Classic Designs Available For Variety of Applications

Chicago, Illinois - Offering classic street lighting styles for a broad range of applications, Schréder Lighting USA introduces Albany luminaires with the world-famous Sealsafe® Optical System. Schréder Lighting USA, the newest of the 40-member Schréder Group G.I.E. located in 36 countries on four continents, is marketing the Schréder brand in the fields of Public Lighting, Floodlighting, Tunnel/Transit Lighting, Industrial and Urban Lighting.

A classic of the Victorian era, Albany is notable for its versatility. Its two sizes, along with a wide range of reflectors, mounting options, and timeless form, make the lighting group suitable for large urban centers, towns, roadways and retail centers. Engineered for longevity and energy efficiency, Albany features all aluminum construction for corrosion-resistance in any environment, tool-free access to high efficiency reflectors and the ballast module, as well as quick disconnect plugs for electrical terminations. The ballast module twists off for easy relamping and maintenance.

Albany features Sealsafe® IP66, a hermetically sealed optical unit that prevents dust and water ingress to the IP66 tightness standard while ensuring lifetime protection. Robustly constructed of 99.9 percent pure cast aluminum and designed with a reflector bonded to its lens, Sealsafe's high-performance reflectors enhance Albany's performance while eliminating internal cleaning of the reflector, energy and installation costs. The Right Lighting is achieved with optimal tubular "point source" lamp positioning inside the optical unit while illuminating the installation parameters, and delivering a higher level of light flux spread on the ground surface without light pollution and spillage. Albany luminaires increase public safety and reduce crime and fear by transforming the mindset of citizens living and working in urban areas.

The Albany ensemble allows various installation heights according to the type of luminaire selected, helping to achieve aesthetic coherence across various types of applications within a town. Albany luminaires can be installed on poles ranging from 16 to 23 feet height. Wall fixtures are also available. The larger Maxi model offers a solution to the lighting needs of major access roads with a luminaire height of 26.8 inches and diameter of 27.6 inches. It uses Metal Halide or High Pressure Sodium lamping ranging from 150 to 400 watts. The Midi, a more compact offering, is particularly suited to the lighting of city centers, narrow lanes or public squares. The Midi luminaire is 23 inches tall, 23.2 inches in diameter, and uses Metal Halide or High Pressure Sodium lamping ranging from 50 to 150 watts.

With tens of thousands of luminaires installed all over the world, Albany delivers an ideal street lighting solution with a timeless, versatile design, photometric performance and richness.

About Schréder Lighting USA

Founded in 1927 in Belgium, Schréder Group G.I.E. is an international group that specializes in upscale, architectural outdoor lighting that is at the forefront of technological and aesthetic innovation. The members and affiliated companies of the Schréder Group share facilities and powerful tools for R&D, manufacturing, high-level photometric studies, and laboratory testing. Findings are made available to all companies in the group with the purpose of providing clients with the best options for the "Right Lighting".

The "Right Lighting" Motto pertains to the enabling of design performance criteria that best incorporates economical, ecological, and energy efficient fundamentals.

For more information, contact:

Schréder Lighting LLC

985 Busse Road

Elk Grove Village, IL 60007

Tel: 847.621.5100

Fax: 847.621.5121

Website: www.schreder.com

Email: info@schreder.com

More from Optics & Photonics