Street Light Control System helps conserve energy.
Press Release Summary: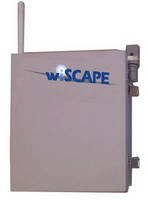 Using combination of universal street light modules and connecting gateways, wiSCAPE™ creates secure wireless control network. Modules are installed directly in street light and work with variety of lighting sources. Utilizing secure peer-to-peer, self-organizing, and self-healing mesh network infrastructure, wiSCAPE™ lets users manage, monitor, and meter each streetlight with click of mouse. Dimming, scheduling, and motion detection features help minimize energy costs and light pollution.
---
Original Press Release:

Hubbell Building Automation Launches the World's Most Advanced, Yet Easy to Use, Street Light Control System--wiSCAPE(TM)



Company's Universal Control Solution Puts Street Light Energy Savings and Monitoring at Your Fingertips



GREENVILLE, S.C. -- Hubbell Lighting, a world leader in lighting innovation, announced today a state-of-the-art wireless lighting control solution for new and existing street lights--Hubbell Building Automation's (HBA) wiSCAPE(TM). Using a combination of universal street light modules and connecting gateways, wiSCAPE(TM) creates a sophisticated and secure wireless control network for maximum energy savings and intuitive asset management.



Street lights make roads safer, public areas more inviting and city centers, businesses and homes more secure. That said, it also accounts for nearly 40 percent of a city's electrical spending. As municipalities search for ways to become more energy efficient, leaders are looking to reduce overall energy use, light streets based on activity level, pay for actual energy consumed and minimize light pollution--all without raising electricity prices or taxes. HBA's wiSCAPE(TM) accomplishes each of these objectives and more. Just imagine if all of the nation's 52.6 million street lights were automated, the estimated energy savings would provide enough electricity to power 1.5 million homes each year. [1



HBA's wiSCAPE(TM) fixture modules are installed directly in any street light and don't require the running of new wires or relay panels, and the system works with a wide variety of lighting sources including: LED, induction, MH-HPS-LPS, incandescent, halogen, and plasma. Utilizing a secure peer-to-peer, self-organizing and self-healing mesh network infrastructure, wiSCAPE(TM) allows users to manage, monitor and meter each individual streetlight with the click of a mouse. With dimming, scheduling and motion detection features, wiSCAPE(TM) significantly reduces energy costs while minimizing light pollution.



Seamlessly melding the network together, HBA's wiSCAPE(TM) Gateway is used to combine up to 1,000 wiSCAPE(TM) fixture modules into a single wireless network. Using the robust 2.4GHz ISM (Industrial, Scientific and Medical) radio band, the wiSCAPE(TM) Gateway wireless control technology adapts easily to complex automation situations for quick, simple and economical commissioning and operation.



HBA wiSCAPE(TM) modules are supported by wiSCAPE View(TM)--the graphical system management software platform that gives users the ability to remotely access multiple wiSCAPE(TM) Gateways individually from one location. Equipped with a user-friendly graphical interface with map and satellite views, wiSCAPE View(TM) features real-time control status, alarms and metering capabilities including burned lamp notifications, over/under voltage, cycling, and low power factor. There is even a wiSCAPE(TM) app for iPod®, iPad®, iPhone®, Android(TM), and other Smartphone devices.



For additional information on Hubbell Building Automation's Hubbell Building Automation's wiSCAPE(TM), please visit www.hubbell-automation.com.



About Hubbell Lighting

Hubbell Lighting is one of the largest lighting fixture manufacturers in North America. The company provides a full range of indoor and outdoor lighting products serving the commercial, industrial, institutional, and residential markets. Hubbell Lighting brands include Alera Lighting, Architectural Area Lighting, Beacon Products, Columbia Lighting, Compass Products, Devine Lighting, Dual-Lite, HomeStyle Lighting, Hubbell Building Automation, Hubbell Industrial Lighting, Hubbell Outdoor Lighting, Kim Lighting, Kurt Versen, Prescolite, Progress Lighting, Security Lighting, Spaulding Lighting, Sportsliter Solutions, Sterner Lighting Systems, Thomasville Lighting, and Whiteway. Hubbell Lighting: one name, distinctive brands, limitless lighting possibilities. For additional information, please visit www.hubbelllighting.com  and follow Hubbell Lighting on YouTube, Twitter and Facebook.



[1 Assumes average electricity use per home of 11,496 kWh/year according to data from the 2010 Energy Information Administration.

More from Test & Measurement