Strategic Agreement between Datalogic and B&R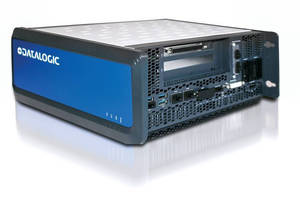 New UX Vision Processors Relying on BR's Automation PC 910



Datalogic Automation is gearing up to adopt low-consumption, high-performance BR Automation PC 910 systems into its new UX series of vision processors. This is the result of the strategic agreement signed by both market leaders that will see the powerful BR Automation PC 910 equipped as the new vision processor and providing support for Datalogic's industry-leading IMPACT machine vision software.



Up to 4 USB 3.0 cameras

Equipped with state-of-the-art technology like Intel's third-gen Core i-series processors and a wide range of standard video interfaces, the BR Automation PC 910 is the ideal choice for demanding applications – including high-speed, high-resolution inspection and analysis. Combined with Datalogic's outstanding IMPACT software, the system can manage up to four USB 3.0 cameras to deliver unrivalled machine vision solutions.



UX vision processors support a wide portfolio of USB 3.0 vision cameras and can even handle different camera formats and resolutions with the same vision processor. With three configurations for high-powered image processing, they can be seamlessly integrated into standard factory networks as well as secondary software packages.



Datalogic's UX series vision system takes advantage of the high-performance B&R Automation PC 910.



B&R company profile

As a global leader in industrial automation, B&R combines state-of-the-art technology with advanced engineering to provide customers in virtually every industry with complete solutions for machine and process automation, motion control, HMI and integrated safety technology. With industrial fieldbus communication standards like POWERLINK and openSAFETY as well as the powerful Automation Studio software development environment, B&R is constantly redefining the future of automation engineering.



B&R Industrial Automation, Inc. North America, based in Atlanta, GA, has been working closely with its customers since 1987. Since then, B&R North America has continuously grown as a sales and support organization through both direct sales offices and B&R's unique Automation Partner distribution network. Today, B&R North America has a network of more than 25 offices throughout the USA and Canada and is there for its customers locally. For more information, please visit www.br-automation.com.  

More from Electronic Components & Devices