StratEdge to Display High-Performance DC-63GHz Packages at IMAPS Device Conference at Booth 62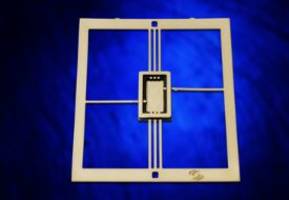 San Diego, CA - 1 March 2018 - StratEdge Corporation, leader in the design, production, and assembly of high performance semiconductor packages for microwave, millimeter-wave, and high speed digital devices, announces that it will display its high-frequency and very high-power device packages in booth 62 at the IMAPS Device Conference. The conference is being held March 6 and 7th at WekoPa Resort and Casino in Fountain Hills, Arizona.
StratEdge packages come in leaded and leadless drop-in formats, leaded and leadless surface mount formats, and specialty high power and high speed digital designs. Some of the packages on display will be:
New, off-the-shelf molded ceramic packages that meet the requirements to handle 18 GHz devices, including gallium nitride (GaN).
LL family of high-power laminate copper-moly-copper (CMC) base packages with a ratio of 1:3:1 CMC that include both GaN transistor and MMIC device packages.
SE50 series with the industry's lowest electrical loss design for compound semiconductors operating at frequencies as high as 63 GHz.
MC Series of molded ceramic packages in standard, open-tooled configurations, which are all MIL-STD hermetic.
Leaded Power Amplifier packages for GaAs power amplifiers. This proven design has been used in countless point-to-point, point-to-multipoint, and VSAT applications.
Hermetic SMT packages in some of the most popular industry standard, no-lead outlines for use where standard plastic packages cannot meet the reliability or performance requirements of a particular application.
High-speed digital and mixed signal packages that can be customized for speeds in excess of 40 GB/s.
"5G, and its high-power infrastructure, and IoT and advanced cellular technologies requiring RF and microwave frequencies will make package selection critical," said Tim Going, StratEdge president. "Packages can no-longer be an after-thought. They not only are necessary for heat dissipation, but also to ensure that the electrical connection is accurate and the device functions as intended, without electrical losses. The IMAPS Device Packaging Conference is a great place to discuss your package requirements."
For more information, contact StratEdge at info@stratedge.com, shop at the StratEdge store on Amazon.com, sign up for the StratEdge newsletter, and/or visit our new website at www.stratedge.com.
About StratEdge
StratEdge designs and manufactures high-performance semiconductor packages and provides chip assembly and test services. We specialize in packages for high-frequency, very high power, extremely demanding Gallium Arsenide (GaAs) and Gallium Nitride (GaN) devices and have a complete line of post-fired and molded ceramic semiconductor packages that operate from DC to 50+ GHz. Our patented electrical transition designs give StratEdge packages exceptionally low electrical losses, even at 50+ GHz. Markets served include telecom, mixed signal, VSAT, broadband wireless, satellite, military, test and measurement, automotive, and MEMS. StratEdge is an ISO 9001:2008 facility.
Related