Stratasys' New Material enhances 3D printing.
Press Release Summary: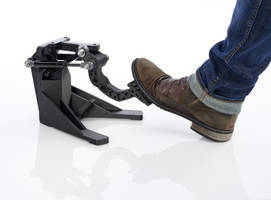 Stratasys' New Materials - nylon and rubber-like material improves its 3D printing capability. Used for rapid prototyping, strong and light-weight tooling, FDM Nylon 12CF constitutes 35 percent of chopped carbon-fiber by weight. Agilus30 family materials come in Agilus30 and Agilus30 Black variants and used in applications like for soft-touch and living hinges, hoses, seals and gaskets, knobs and grips.
---
Original Press Release:
Stratasys Expands its 3D Printing Gamut with Two New Material Advances: FDM Carbon Fiber-Filled Nylon Capable of Replacing Metal, and Extra-Flexible, Tear Resistant PolyJet Family
FDM Nylon 12CF with very high stiffness-to-weight ratio is capable of replacing metal components in a range of prototyping, tooling and end-use applications
Agilus30 rubber-like material line has superior durability, tear resistance and elongation-at-break properties for design verification and prototyping
Stratasys Ltd. (Nasdaq:SSYS): the 3D printing and additive manufacturing solutions company, announced today two new advanced materials: FDM Nylon 12CF - a carbon fiber-filled thermoplastic strong enough to replace metal components in a range of applications, and, for the PolyJet process, Agilus30 - a new line of high-durability flexible materials that can withstand repeated flexing without tearing or deforming.
This Smart News Release features multimedia. View the full release here: http://www.businesswire.com/news/home/20170307005731/en/
FDM Nylon 12CF: Best Stratasys FDM Stiffness-to-Weight Ratio
The first high-performance composite material to replace a range of metal applications available for Stratasys FDM technology, FDM Nylon 12CF is ideal for rapid prototyping, strong, light-weight tooling and end-use parts.
Containing 35 percent chopped carbon-fiber by weight, FDM Nylon 12CF offers the best stiffness-to-weight ratio among Stratasys FDM thermoplastics, meeting functional performance testing demands in automotive, aerospace, recreational goods, and industrial manufacturing sectors.
FDM Nylon 12CF will be of special interest for the following users and use cases:
Design engineers that need to rapidly produce strong, light-weight and rigid components for functional prototyping, thus reducing new product time-to-market.
Manufacturing engineers that produce manufacturing aids, such as jigs and fixtures, where high material stiffness and strength is required and there is great benefit to the significant weight savings over metal tooling components.
Design engineers making low-volume production parts with unique structural requirements, where high strength in one-direction is required.
FDM Nylon 12CF beta customer Utah Trikes is taking advantage of the material's properties throughout its development and production process to make significant cuts to its product development times.
"The excellent strength and stiffness-to-weight ratio of the FDM Nylon 12CF material is a game changer for us. It means we can prototype almost every part of our product on Stratasys FDM 3D Printers in under two weeks, where in the past it could take us over two months," said Ashley Guy, president and CEO of Utah Trikes.
"I no longer have to constrain my designs because of prototyping limitations. Now I can focus on designing better, more functional parts without worrying about how to shape the aluminum or how to lay up carbon fiber onto the molds. Stratasys FDM Nylon 12CF parts can be 3D printed faster, with superior stiffness-to-weight performance and with better repeatability than any other 3D printing technology or vendor we've seen," continued Guy.
"We believe that the impressive strength-to-weight ratio of the FDM Nylon 12CF is transformative for many industries from consumer goods and recreational goods to automotive and aerospace," said Zehavit Reisin, VP, Head of Rapid Prototyping for Stratasys. "It enables designers to develop more practical and functional designs and get them to market faster, without worrying about how to prototype those parts using metal or molding."
According to Tim Schniepp, Head of Tooling Solutions for Stratasys, "The very high stiffness-to-weight ratio of the FDM Nylon 12CF material makes it extremely well suited for a wide range of final part and manufacturing tooling applications where the combination of stiffness, strength and low weight is critical to the performance. Examples include drill guides, end- of- arm tooling, brackets, jigs, fixtures, and even metal forming tools."
Expected to begin shipping in Q2 2017, FDM Nylon 12CF is available for the Stratasys Fortus 450mc Production 3D Printer and is compatible with soluble support SR-110. It requires an updated version of Insight software and a hardware upgrade. The material can produce parts in a layer thickness of 0.010 in (0.254 mm).
Visit the FDM Nylon 12CF webpage for further information on the material http://cts.businesswire.com/ct/CT?id=smartlink&url=http%3A%2F%2Fwww.stratasys.com%2FMaterials%2FNylon12CF&esheet=51521141&newsitemid=20170307005731&lan=en-US&anchor=FDM+Nylon+12CF&index=2&md5=cb0da3e8efbdbece2d26cd9957c25985
Agilus30: Improved Flexibility and Tear-Resistance
The Agilus30 family of materials, consisting of Agilus30 and Agilus30 Black, is created for designers and engineers that need to simulate flexible or rubber materials. The materials enable greater freedom to handle and test flexible parts and prototypes while delivering superior accuracy, fine details and enhanced product realism.
An excellent choice for modeling delicate parts that undergo repeated flexing and bending, the Agilus30 family's all-around rubber-like performance and compatibility with soluble support (SUP706) is expected to be of interest to mechanical engineers, RP managers and industrial designers.
Examples of applications benefitting from Agilus30 include over-molding, soft-touch and living hinges, hoses, seals and gaskets, as well as knobs, grips, pulls, and handles. Agilus30 can also be combined with additional materials to create a wide range of Digital Materials with varying Shore A values, shades and colors.
Agilus30 is compatible with Stratasys' Objet260/350/500 Connex1/2/3 3D Printing platforms and is now available for shipping.
For more than 25 years, Stratasys Ltd. (NASDAQ:SSYS) has been a defining force and dominant player in 3D printing and additive manufacturing – shaping the way things are made. Headquartered in Minneapolis, Minnesota and Rehovot, Israel, the company empowers customers across a broad range of vertical markets by enabling new paradigms for design and manufacturing. The company's solutions provide customers with unmatched design freedom and manufacturing flexibility – reducing time-to-market and lowering development costs, while improving designs and communications. Stratasys subsidiaries include MakerBot and Solidscape, and the Stratasys ecosystem includes 3D printers for prototyping and production; a wide range of 3D printing materials; parts on-demand via Stratasys Direct Manufacturing; strategic consulting and professional services; the GrabCAD platform with over 3 million professional users; and the Thingiverse and GrabCAD communities with over 2 million 3D printable files for free designs. With more than 2,700 employees and 1,200 granted or pending additive manufacturing patents, Stratasys has received more than 30 technology and leadership awards. Visit us online at: www.stratasys.com
Contact:
Stratasys
Arita Mattsoff,
+972-(0)74-745-4000 (IL)
Joe Hiemenz,
+1-952-906-2726 (US)
North America
Craig Librett,
+1-518-424-2497
Stratasys
More from Agricultural & Farming Products