Stratasys Fortus 900mc 3D printer uses engineering-grade thermoplastics.
Press Release Summary: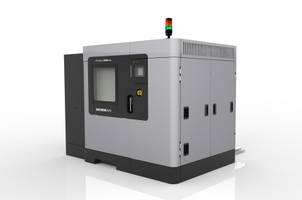 Built for functional prototyping, manufacturing aids, tooling and short-run direct digital manufacturing, Stratasys Fortus 900mc offers streamlined workflow and easier job-monitoring with internal camera and GrabCAD Print Software. Running ABS-M30, ABS-M30i, ABS-ESD7, ASA, FDM Nylon 12, PC and PC-ABS, unit meets Standard certification from NRTL. Eliminating need for STL file conversion, device's GrabCAD connectivity enables scheduling and monitoring.
---
Original Press Release:
Capabilities Expand with Next Generation Fortus Production 3D Printer from Stratasys
Large-format Stratasys Fortus 900mc designed to fill need for a production 3D printer with high throughput, precision and repeatability; includes new material: Stratasys FDM Nylon 6
Stratasys also announces that GrabCAD Print software is now commercially available globally and compatible with most Stratasys 3D printers
Stratasys Ltd. (Nasdaq:SSYS), the 3D printing and additive manufacturing solutions company, introduces the next generation of the Stratasys Fortus 900mc, a robust FDM Production 3D Printer built for functional prototyping, manufacturing aids, tooling and short-run direct digital manufacturing.
This new generation of the proven large format Stratasys Fortus 900mc Production 3D Printer maintains the industry's leading accuracy and reliability. With additional key features and certifications, the 3D printer allows for improved use along with a rapid installation process that saves time for the users. The Stratasys Fortus 900mc uses engineering-grade thermoplastics, including the newly released FDM Nylon 6.
The Stratasys Fortus 900mc offers a streamlined workflow and easier job-monitoring with an internal camera and GrabCAD Print Software. Standard certifications are included, eliminating the effort and cost to qualify the 3D printer for the user's production floor.
The proven core mechanics of the original Stratasys Fortus 900mc system remain unchanged in this upgraded system with a strong line-up of enhanced features to improve the overall user experience.
Capabilities include:
• The ability to create stronger-than-before and reliable manufacturing tools or durable functional prototypes with the newest Stratasys thermoplastic, FDM Nylon 6 (Polyamide 6 / PA6) which offers a strength and toughness superior to other FDM thermoplastics.
• In order to increase efficiency and enable the user to have tighter control of the printing process, GrabCAD Print includes remote monitoring, job scheduling and reports. The system also includes an internal camera, improving job monitoring which can be done remotely to mitigate risk.
• The system's user will use GrabCAD Print's streamlined, more efficient workflow that eliminates the need for STL file conversion by supporting the upload of CAD files directly to the 3D printer for production.
• Standard certification from an NRTL (nationally recognized test lab), previously an option requiring onsite evaluation, means that a company can save money, time and considerable effort to qualify its 3D printers to run on a production floor.
• Ready for Stratasys Xtend 500 extended-length material boxes. Xtend 500 boxes save time by allowing longer runs without interruption and minimizing changeover time.
• In a bid to accelerate speed and system efficiency, the previously introduced, optional Acceleration Kit allows material to extrude rapidly, thereby printing large parts faster.
• In addition to Nylon 6, the Stratasys Fortus 900mc runs ABS-M30, ABS-M30i, ABS-ESD7, ASA, FDM Nylon 12, PC, PC-ABS, PC-ISO, ST130, PPSF, ULTEM™ 9085 and ULTEM™ 1010. The 3D printer is also compatible with Stratasys SR30, the new SR35, SR100 and SR110 support materials.
Stratasys FDM Nylon 6 Now Available for Fortus 900mc Production 3D Printer
Publicly announced in September, FDM Nylon 6 is now available for the Stratasys Fortus 900mc Production 3D Printer. Manufacturers using additive production processes value high-strength 3D printed parts. Because of its strength, the Nylon family of polymers is one of the most-widely used thermoplastics in traditional manufacturing. This engineering-grade material is used in a range of applications requiring high tensile strength. Stratasys FDM Nylon 6 offers the best combination of strength and toughness among current Stratasys FDM materials. It enables creation of functional prototypes, manufacturing tools and production parts with high impact strength.
The use of Stratasys Nylon 6 on the next generation Stratasys Fortus 900mc is expected to be of interest to three main groups:
1. Product Engineers who need a quick, reliable method to test durable prototypes for fit, function and durability. The Stratasys Fortus 900mc Production 3D Printer offers higher productivity, streamlined workflow and easier job monitoring to meet production demands for large prototyping shops or on the manufacturing floor.
2. Manufacturing Engineers that need to optimize their manufacturing throughput to create efficient and cost-effective solutions. With the Stratasys Fortus 900mc these users can produce on-demand, customized parts in engineering-grade thermoplastics that are robust and repeatable for applications such as manufacturing aids and tooling.
3. Service Bureaus that need a flexible 3D printer that can work in multiple engineering-grade materials to produce robust and often larger parts for their customers' needs, from concept testing to production floor-ready manufacturing aids, tooling and some end use parts.
Notes: There is no upgrade path from the original Stratasys Fortus 900mc to the next generation Stratasys Fortus 900mc. Stratasys FDM Nylon 6 will run on both the next generation and the original Fortus 900mc. Upgrading an original Stratasys Fortus 900mc Production 3D Printer to run Stratasys Nylon 6 requires only a software license and does not require a service visit.
Stratasys Announces GrabCAD Print is Available Globally Stratasys announced today the global availability of GrabCAD Print, which now offers wide-ranging compatibility with the company's FDM 3D Printers. The general release follows a five-month beta trial period and represents an important milestone in Stratasys' execution of its 3D printing software strategy announced in May. The company's goal is to drive 3D printing in the digital manufacturing era and towards Industry 4.0.
A cloud-based application, GrabCAD Print reads CAD files natively and eliminates or minimizes the need to export to STL, significantly streamlining the design-to-3D-print workflow. GrabCAD Print network connectivity enables job preparation, scheduling and monitoring of an increasing portfolio of Stratasys printers from anywhere. In addition, built-in collaboration and business intelligence provide users the ability to track application and printer data. Advanced material usage and printer utilization management assist with planning and capital purchases, while scaling and orientation support offer more effective tray utilization and layout.
Market-leading Stratasys customers, including Joe Gibbs Racing and 4Moms, which participated in the beta program gave feedback, and the feedback of other customers in the program drove the addition of more than 40 software enhancements prior to today's product release. GrabCAD Print is currently available in nine languages.
These Stratasys solutions will be showcased at formnext - Hall 3.1 Stand H40. Visitors will also be treated to a unique virtual 3D printing experience that marks the European premiere of the Stratasys Infinite-Build and Robotic Composite 3D Demonstrators. In cooperation with the involvement of Boeing, Ford and Siemens, the 3D Demonstrators are designed to break barriers in part performance and production efficiency; the Virtual Reality Experience enables visitors to explore these technologies in a unique interactive environment and examine real parts produced by both systems at the Innovation Corner in the Stratasys booth.
Multimedia content for the Stratasys Fortus 900mc 3D Printer, FDM Nylon 6 material, and GrabCAD Print Software, are available in the Stratasys newsroom.
For more than 25 years, Stratasys Ltd. (NASDAQ:SSYS) has been a defining force and dominant player in 3D printing and additive manufacturing – shaping the way things are made. Headquartered in Minneapolis, Minnesota and Rehovot, Israel, the company empowers customers across a broad range of vertical markets by enabling new paradigms for design and manufacturing. The company's solutions provide customers with unmatched design freedom and manufacturing flexibility – reducing time-to-market and lowering development costs, while improving designs and communications. Stratasys subsidiaries include MakerBot and Solidscape, and the Stratasys ecosystem includes 3D printers for prototyping and production; a wide range of 3D printing materials; parts on-demand via Stratasys Direct Manufacturing; strategic consulting and professional services; and the Thingiverse and GrabCAD communities with over 2 million 3D printable files for free designs. With more than 2,700 employees and 1,200 granted or pending additive manufacturing patents, Stratasys has received more than 30 technology and leadership awards. Visit us online at: www.stratasys.com or http://blog.stratasys.com/, and follow us on LinkedIn.
Stratasys, Fortus, FDM, and GrabCAD are registered trademarks, and the Stratasys signet, 900mc, and GrabCAD Print are trademarks of Stratasys Ltd. and/or its subsidiaries or affiliates. ULTEM is a registered trademark of SABIC or its affiliates or subsidiaries. All other trademarks are the property of their respective owners.
USA 1-877-489-9449
• Europe/Middle East/Africa +49-7229-7772-0
• Asia Pacific +852 3944-8888 Stratasys
Media Contacts Stratasys
Arita Mattsoff,
+972-74-745-4000 (IL)
Joe Hiemenz, +1-952-906-2726 (US)
North America
Craig Librett,
+1-518-424-2497
or
Europe UK Incus-Media Jonathan Wake or Miguel Afonso,
+44-1737-215200
Germany
Rheinfaktor Philipp Budde,
+49 221 88046-0
or
Asia Pacific Stratasys
AP Janice Lai,
+852 3944 8888
Japan Stratasys Japan
Aya Yoshizawa,
+81 90 6473 1812
or
Korea Stratasys
Korea Janice Lai,
+852 3944 8888