Strainsert Introduces: Custom Load Pin Configurator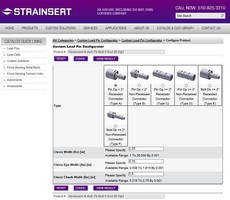 Strainsert is proud to announce the launch of their new custom Load Pin Configurator; a unique online configuration tool developed by Strainsert for custom load pin applications.



This online tool allows engineers and/or designers to input nominal design parameters to determine application feasibility and generate conceptual load pin designs/drawings quickly and effectively. All finalized designs/drawings will be completed and formalized by Strainsert.



The configurator is very easy to use and understand. Typical elements of the configurator that need to be selected or entered include:

1. One of six common load pin configurations

2. A pin diameter (inches)

3. A clevis width (inches)

4. A clevis eye/lug width (inches)

5. A clevis cheek width (inches)



The data entry procedure is followed by clicking on the View Result button at the bottom of the configurator, which will generate the design/drawing. At that point, the engineer or designer has multiple options. They can review the drawing and download in many common CAD formats or they can modify the design, change their parameters and generate a different design optimized for their requirements.



The ability to configure and generate design drawings "on the fly" saves time and effort, while also facilitating the quick procurement of a Strainsert quote on the custom load pin design.



NOTE: This configurator is optimized for common applications. For custom load pin designs outside of typical parameters, please contact Strainsert to discuss your load pin application. Strainsert can provide additional technical support based on their vast design and manufacturing experience.



The Strainsert Company provides both standard and custom load pins for many industries, including Military, Marine, Automotive and Aerospace. Utilizing their patented internal strain gage process perfected during the last fifty years, the load pins offer superior force measurement by simply replacing existing shear pins, clevis pins, shear axles or many other type of pinned joints.



The load pins have a wide range of applications, provide a long operational life and are currently used on simple force measurement solutions up to such cutting edge projects as the Mars Exploration Rover Mission for NASA, the Space Shuttle launching pad and hydrostatic or submersible vehicles deep under the ocean's surface.



If you have questions or need more information on our products or services, please visit www.strainsert.com or call 610-825-3310.



About Strainsert Company

Headquartered in Conshohocken, PA, and established over five decades ago, Strainsert is an industry leading designer and manufacturer of force sensor products, including load cells, load pins, tension links, force sensing bolts/studs and force measurement systems. Strainsert is a pioneer in the force transducer industry, with numerous patented designs made possible by innovative internal gaging processes and an unsurpassed dedication to engineering, customer requirements and vast industry experience in the Aerospace, Military, Marine and Automotive industries. Strainsert is AS9100C / ISO 9001:2008 certified. For more information, please visit www.strainsert.com or call 610-825-3310.





More from Electronic Components & Devices