Strain Gauges optimize PCB production quality.
Press Release Summary: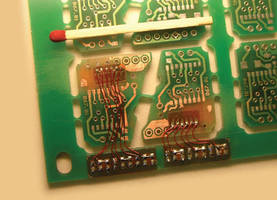 At 1.2 x 2 mm, Y series micro-strain gauges detect mechanical stresses that occur during production of complex PCBs. They attach directly to board to monitor levels, which are 850 µm/m for unpopulated PCBs and around 450 µm/m for populated boards. Measurements can be obtained during production processes including depanelization, plug assembly, in-circuit testing, and installation as well as in solder bath. Units are available in linear and rosette form.
---
Original Press Release:

Strain Gages Improve Printed Circuit Board Quality



Darmstadt - HBM has developed micro-strain gages with a size of 1.2 mm x 2 mm to detect the mechanical stresses that occur during the production of complex printed circuit boards (PCBs) leading to marked improvements in production quality. The micro-strain gages can be attached directly to the PCB to monitor stress levels; for unpopulated PCBs, these are around 850 µm/m, for populated PCBs, around 450 µm/m.

Strain gages are needed for these applications because continuing technological development has resulted in PCBs that are extremely complex and very densely populated. This leads to increased mechanical stress and can result in damage to the electronic components. There is a higher probability that the completed circuit will then fail.

Using HBM's latest micro-strain gages, stress measurements can be obtained throughout production including depanelization, plug assembly, in-circuit testing and installing PCBs in an enclosure. Measurements can even be performed in a solder bath, where vast fluctuations in temperature can lead to strain.

HBM can also supply strain gages of the Y series, for example, in linear form (LY4) or in rosette form (RY9) that are also suitable for these applications.

HBM, the measurement and test technology specialist, also supplies its Spider8 or MGCplus amplifiers and catman® software to capture and record the data in keeping with its philosophy of providing the entire measuring chain for enhanced performance and ease of use.

HBM can install strain gages to meet any requirements and will perform stress measurements as a separate service. For more information, go to http://www.hbm.com/stressanalysis.