Pressure Sensors / Detectors / Transducers
Strain Gage Pressure Sensors suit next-gen brake systems.
Press Release Summary: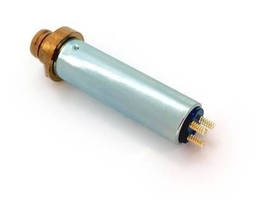 Featuring eXtra-small Form Factor with body diameter less than 7.8 mm and height less than 30 mm, Micro-fused Strain Gage Pressure Sensors are intended for next-generation brake systems in hybrid, electric, and conventional vehicles. Modular port design caters to wide range of system pressures, while modular circuit architecture offers high fault detectability. MSG technology provides accurate analog and digital pressure and temperature signal conditioning from -40 to +140°C.
---
Original Press Release:

Sensata Technologies Introduces its Smallest Micro-fused Strain Gage Technology for Next Generation Brake Systems Especially Designed for Hybrid and Electric Vehicles



Sensata Technologies Introduces Its Smallest Micro-fused Strain Gage Technology For Next Generation Brake Systems Especially Designed For Hybrid And Electric Vehicles



The new eXtra-small Form Factor sensor provides automotive system manufacturers higher density system packaging with industry leading quality and performance



ATTLEBORO, Mass.,  -- Sensata Technologies, Inc. (NYSE: ST), a leading manufacturer of sensing, electrical protection, control and power management solutions, has developed a line of smaller, lighter Micro-fused Strain Gage (MSG) pressure sensors for use in next-generation brake systems for hybrid, electric, and conventional vehicles. The eXtra-small Form Factor (XFF) sensor is available for design-in beginning January 2016.



"To ensure traditional braking feel in hybrid and electric vehicles, brake systems require additional pressure sensors," observes Jeff Silveria, Sensata's Performance Sensing Segment manager for global chassis.  "By offering our caliber of pressure sensing in a smaller, lighter package, our customers can adopt multiple sensors without growing their module."



Sensata's automotive MSG pressure technology will now be offered at less than 5 grams, with a body diameter less than 7.8mm, and a height less than 30mm, including its revolutionary spring contact system.  This provides system manufacturers with a new degree of design flexibility and including industry leading performance. The new XFF platform utilizes a modular port design, catering to a wide-range of system pressures, and a modular circuit architecture offering high-fault-detectability enabling system manufacturers to meet technical safety requirements associated with ISO26262. 



Sensata's MSG technology offers analog and digital integrated pressure and temperature signal conditioning delivering an accurate, stable signal over wide operating temperature (-40° to +140° C) and pressure ranges. 



"Beyond hybrid and electric vehicles, this MSG form factor is ideal for integrated brake modules which eliminate the vacuum booster," says Vineet Nargolwala, Vice President and General Manager, Automotive Performance Sensing in North America, Japan and Korea.  "This development enables improved fuel economy and enhanced emergency braking performance in all vehicle types."



About Sensata Technologies

Sensata Technologies is one of the world's leading suppliers of sensing, electrical protection, control and power management solutions with operations and business centers in 16 countries. Sensata's products improve safety, efficiency and comfort for millions of people every day in automotive, appliance, aircraft, industrial, military, heavy vehicle, heating, air-conditioning and ventilation, data, telecommunications, recreational vehicle and marine applications. For more information please visit Sensata's website at www.sensata.com.



Sensata Communications Contact:

Alexia Taxiarchos

ataxiarchos@sensata.com

+ 1-508-236-1761                           



More from Thermal & Heating Equipment