Strain Gage Load Cell is fully customizable.
Press Release Summary: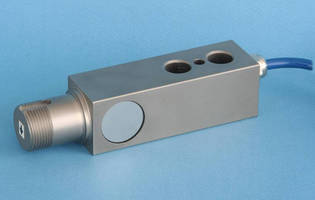 Designed to directly integrate with new or existing roll bearing systems, SS6000 series is offered in ranges from ±2,000 to ±5,000 kg, with 2 mV/V output. It incorporates transducer quality bonded strain gauges as its primary transduction element, suited for precision web tension control measurements. Machined from stainless steel for high resistance to shock, overload, and corrosion, unit has cylindrical end shape, allowing bearings to be mounted directly to load cell.
---
Original Press Release:

Sherborne Sensors Debuts Fully Customizable Bearing Load Cells for Tension Control Applications



Sherborne Sensors (www.sherbornesensors.com), a global leader in the design, development and manufacture of inclinometers, accelerometers, force transducers, load cells, rotary encoders, instrumentation and accessories for industrial, military and aerospace customers, has introduced the SS6000 series, a range of fully customizable shear strain gauge (gage) load cells, designed to directly integrate with new or existing roll bearing systems, for high-precision force measurements within demanding web tension applications.

The design of the SS6000 series incorporates precision transducer quality bonded strain gauges as its primary transduction element, to ensure high-reliability under demanding conditions, as well as to facilitate easy integration with closed loop tension control systems. The transducers are fully compensated for the effects of temperature on zero output and sensitivity, with minimal deflection and high resonant frequency, ensuring rapid response to tension changes. Sensors are machined from stainless steel, for high resistance to shock, overload and corrosion, and are offered in ranges from ±2,000 to ±5,000 kg (4,400 to 11,000 lbf), with 2 mV/V output. The cylindrical end shape of the SS6000 series allows bearings to be mounted direct to the load cell.

With extensive in-house applications engineering and manufacturing expertise, Sherborne Sensors can also design and manufacture custom load cells to meet specific application and conformance requirements, including enhanced measurement capabilities, wider temperature ranges, and specialty connectors.

The SS6000 series is ideal for precision web tension control measurements, including slitting, coating, laminating and embossing processes, as well as winding machinery control applications. All SS6000 series load cells are 100% tested and calibrated at the factory prior to shipment, and are accompanied by a two-year comprehensive warranty. The product is also included under the new Sherborne Sensors Guaranteed On-Time Delivery program. For additional details, drawings and specifications, please contact Sherborne Sensors toll-free (in the US & Canada) at 1-877-486-1766, nasales@sherbornesensors.com, or on +44 (0) 870 444 0728, sales@sherbornesensors.com (worldwide), or by visiting www.sherbornesensors.com.

About Sherborne Sensors:

Sherborne Sensors is a global leader in the design, manufacture and supply of high-precision inclinometers, accelerometers, force transducers and load cells, rotary encoders, instrumentation and accessories for industrial, military and aerospace customers. Products offered under the Sherborne Sensors brand are renowned for their ultra-reliability and long-life precision within critical applications. Recent acquisition of synergistic technologies by Sherborne Sensors within our inclinometer and force and load cell offerings has allowed customers to benefit from expanded product lines, with added benefits of engineering support, global sales presence, repair, refurbishment and calibration services, stocking programs, and continuous product improvement.

Worldwide Technical/Sales:

Robin Butler

Director of Sales & Marketing

Tel: +44 (0) 870 444 0728

Email: sales@sherbornesensors.com

Technical/Sales in North America:

Jesse Bonfeld

VP Business Development

Tel: 1-877-486-1766

Email: nasales@sherbornesensors.com

More from Material Handling & Storage