Storage Server leverages power of dual Cavium ThunderX processors.
Press Release Summary: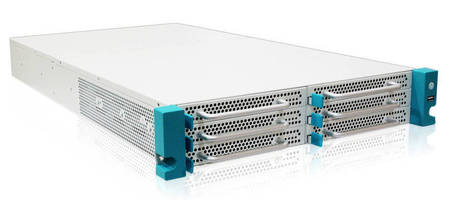 Optimized as Cloud and Data Center server, PL-81060 utilizes dual Cavium® ThunderX™ (64-bit ARMv8) server processors with 48 cores each that support next generation HPC and hyperscale datacenter workloads. System provides up to 248 TB storage via 24 (max) 3.5 in. HDDs in 2U chassis, and four 2.5 in. HDDs/SSDs provide additional 8 TB of cache storage. Along with up to 1 TB DDR4 memory, features include 1,000 W, 2U, redundant 80-Plus power supply and four 10 GbE and one 40 GbE via QSFP.
---
Original Press Release:
WIN Enterprises Announces High Performance Storage Server with Dual Cavium® ThunderX(TM) Processors
NORTH ANDOVER, MA: WIN Enterprises, Inc., a leading designer and manufacturer of embedded controllers, network platforms for solution providers announces the PL-81060, a high-performance server with dual Cavium® ThunderX™ processors optimized as a Cloud and Data Center server. ThunderX™ is the Cavium® 64-bit ARMv8 server processor family for next generation high-performance computing and hyperscale datacenter workloads. The unit provides up to 248 TB of storage. The 64-bit ARM-based PL-81060 uses the standard-size 2U chassis that is popular in the cloud market.

FEATURES
• High-density, high-performance, cost-effective server
• Up to 24x 3.5'' HDD providing up to 240 TB of storage and 4x 2.5'' HDD/SSD providing an additional 8 TB of cache storage
• Dual CAVIUM® ThunderX® CN8890-2000 processors, 48 cores each
• Up to 1 TB DDR4 Memory
• 1000 Watts 2U Redundant 80-Plus Power Supply (PLATINUM Level)
• 4x 10 GbE and 1x 40 GbE via QSFP

The PL-81060 platform features flexible storage/memory component allocation - up to 24x 3.5" HDD and 4x 2.5" HDD/SDD and 1TB DDR4 memory– making it effective for space-constrained applications. Moreover, with its 1000 Watt 80 Plus Power Supply-unit, the PL-81060 consumes less power than comparable high-performance storage units. ARM processing provides a cost-effective server solution that enables customers to make more deployments in the cloud.

WIN Enterprises will work with customers to modify PL-81060 to more specific specifications when they order in standard OEM or above quantities.

.About WIN Enterprises, Inc.
WIN Enterprises is a product development company that designs and manufactures customized x86-based embedded systems, networking platforms, servers, controllers, and motherboards for the embedded and data center market. Founded in 1991, WIN Enterprises has developed several reference designs for world-leading microprocessor companies, plus set-top boxes, rack-mount appliances, and other customized devices for solution developers. WIN Enterprises facilities in the United States and Taiwan enable cost-effective design, manufacturing, and fulfillment for corporations around the world. WIN Enterprises is an Affiliate Member of the Intel® IoT Solutions Alliance, a global ecosystem of 200+ member companies that provide the performance, connectivity, manageability, and security developers need to create smart, connected systems.

WIN is an ISO 9001 certified company.

Press contact
John Hill, Marketing Director
WIN Enterprises
johnh@win-ent.com
978-688-2000 x14

Cavium and ThunderX are registered trademarks of Cavium in the United States and other countries. All other trademarks are property of their respective owners
Related