Storage/Retrieval Systems suit low-footprint environments.
Press Release Summary: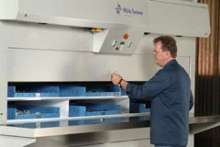 Automated 2100 and 2200 Series vertical carousels eliminate operator bending, stretching and climbing by bringing stored products to operator. Control variations range from manual up/down to software-capable controls with integral VCIT. Products in 2100 and 2200 are fully enclosed within carousels, and counter-mounted light bars direct operator to product location. Options include Ethernet ports and counter-mounted pick-to-light displays.
---
Original Press Release:
White Systems Introduces 2100- And 2200-Series Vertical Carousels

Automated storage and retrieval systems provide a variety of options for high-density storage applications in low-footprint environments

(Kenilworth, NJ: January 14, 2004) White Systems (www.whitesystems.com < www.whitesystems.com >), an FKI Logistex® member company and market leader in designing and building high-speed automated material storage and retrieval systems (AS/RS), introduces the new 2100-Series and 2200-Series medium-duty vertical carousels. Offering an ergonomic design, security and safety features, and high-throughput reliability, the White Systems 2100 and 2200 vertical carousels enable efficient, automated, and cost-effective high-density, small-footprint storage-space utilization.

White Systems 2100/2200 Vertical Carousel < www.fkilogistex.com/download/images/WhiteSystems2100-2200lowres.jpg >The 2100 and 2200 come standard with various levels of control, from the simplest manual up/down control to software-capable controls with integral VCIT (Vertical Carousel Interface Terminal, which includes a backlit LCD with tactile keypad). The high-level control software is totally compatible with all White Systems, Inc. software packages. The 2100 and 2200 also feature optional counter-mounted pick-to-light displays (in two-, six-, and 10-character versions) to further increase inventory management accuracy. In addition, optional Ethernet ports enable high-speed communications over a LAN.

Products in the 2100 and 2200 are stored fully enclosed within the carousels. When not in use, carousel access doors can be locked. In addition, options such as automated single access doors, automated mini-doors, magnetic strip swipe card, and other biometric security devices may be added to the 2100 and 2200 to achieve the highest level of storage security. Built for reliability and performance, the White 2100 and 2200 feature high-quality mechanical and electrical components.

Ergonomically designed to eliminate operator bending, stretching and climbing, the 2100 and 2200 vertical carousels bring stored products to the operator instead of requiring the operator to move to the product. Counter-mounted light bars direct the operator to the exact product location quickly and efficiently. MORE... < www.fkilogistex.com/corporate/press/index.asp?SolID=0&Brand=1&p=168&Company=1 >
More from Sensors, Monitors & Transducers