Storage Made Easy with Del City's New Cable Wraptors!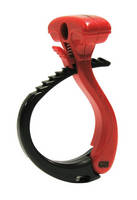 Milwaukee, WI - Organize, store and carry your wires or any bundle easily with one of Del City's new Cable Wraptors. The Wraptors are available in medium and large sizes and can be used in any way that you can find useful. They feature a large hang hole allowing you to hang it in your garage or other work space. They are made of a durable impact and UV resistant plastic and have a large release button to quickly remove your cords.

Del City offers a variety of cable ties, booster cables and electrical cords to compliment our new Cable Wraptors. For more information on our Cable Wraptors or to request a free catalog detailing Del City's complete line of electrical products go to www.delcity.net or call 800-654-4757.

For more information about Del City, please visit www.delcity.net

About Del City

Del City has been a direct source of professional grade electrical supplies since 1947. Purchase automotive wire, wiring, cable, switches, electrical terminals, loom, circuit breakers and thousands of other electrical products, all backed by the best personal service in the industry.

More from Software