Storage and Drink Lids increase mason jar versatility.
Press Release Summary: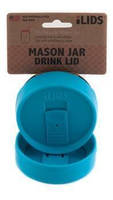 Intelligent LIDS (iLIDs), made from recyclable material, are BPA- and phthalate-free and dishwasher safe. Available in 12 colors to enable color coding, iLID Wide Mouth Storage Lid for regular mouth (86 mm) mason jars have one-piece design and make it possible to shake up internal product or have airtight storage of dry goods. Also available in 12 colors, one-piece iLID Regular Mouth Drink Lid is designed for use with or without straw for hot or cold liquids and facilitates liquid dispensing.
---
Original Press Release:

Fillmore Container Introduces iLIDs Storage Lids and Drink Lids



Lancaster, PA – Fillmore Container introduces Intelligent LIDS (iLIDs) to its product offerings including storage lids and drink lids. The iLID Wide Mouth Storage Lid for regular mouth (86mm) jars is a one-piece lid that makes it possible to shake up a smoothie or have airtight storage of dry goods right in a mason jar. Available in twelve different colors, the storage lids can be used for color coding items in a pantry, refrigerator or freezer.



The iLID Regular Mouth Drink Lid is a one-piece lid designed for use with or without a straw, for hot or cold liquids. Also available in a dozen colors, these drinking lids are great for easy liquid dispensing and can be used to color code beverage options. While the lids are not spill-proof/leak-proof, they are a great all-in-one drinking lid option.



iLIDS offer a simple, clean, practical and environmentally thoughtful product to extend the use of mason jars. Intelligent LIDS are made from recyclable material, are BPA and phthalate-free, Dishwasher Safe and made in the USA.



iLIDS storage lids are available for purchase via Fillmore Container: http://www.fillmorecontainer.com/CategoryList.aspx?CategoryId=0&k=storage%20lid%20for%20mason%20jar%20ilid%20wide



iLIDs drink lids are also available for purchase via Fillmore Container: http://www.fillmorecontainer.com/Drink-Lid-for-Mason-Jar-iLID-Regular-Mouth-AQUA-BLUE-P6321.aspx?c=0



About Fillmore Container

Fillmore Container, formed in 1995 and based in Lancaster, PA, is a distributor of packaging products, and candle making supplies. Its mission is to offer the best selection, price, and service for quality glass containers including, food containers, candle containers, closures, candle wax, fragrance oils, candle wicks, canning accessories and candle accessories. Fillmore Container is dedicated to supplying the best price, service and logistical support for packaging needs. Products are suitable for food & beverage, drug & pharmaceutical, and cosmetic applications. www.fillmorecontainer.com

More from Non-Industrial Products