Stopping False Fire Alarms Globally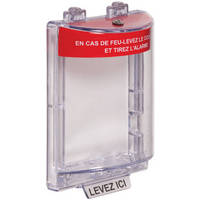 The STI Mini Stopper® multipurpose cover has been helping protect fire pull stations, keypads, emergency buttons and more around the world for over 30 years, without restricting legitimate access. When the cover is lifted a piercing 105 dB battery powered warning horn sounds. Immediate attention is drawn to the area and a prankster will either run or be caught. This cover, with French labeling, protects smaller flush mounted devices from accidental activation. The strong, durable construction takes the toughest knocks while it guards against accidental or intentional physical damage.

The STI-6600/FRE is designed for use with flush mount fire pull stations and is marked with French "IN CASE OF FIRE..." message ("EN CAS DE FEU - LEVEZ LE COUVERCLE, ET TIREZ L'ALARME"). It consists of a tamperproof, clear polycarbonate cover, piezo horn and frame that fits easily over the unit it is protecting.

STI Mini Stoppers are also available in blue, yellow, white or green, can be labeled to specific needs and multiple languages. A conduit spacer is available for surface mount applications to accommodate conduit or an exposed backbox.

Mini Stopper has been tested and approved by UL, cUL and ADA.

For more information on STI Mini Stopper (STI-6600) or the entire Stopper® Line, call 800-888-4STI (4784), fax 248-673-1246 or write STI, 2306 Airport Road, Waterford, MI 48327-1209. The email address is: info@sti-usa.com and the website is: www.sti-usa.com.

More from Agricultural & Farming Products