STMicroelectronics Drives Power-Package Miniaturization While Exceeding Appliance-Safety Standards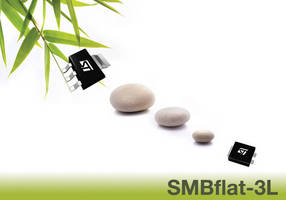 Advanced SMBflat package, 40% thinner and half the PCB space of closest rival SOT-223, takes AC switches, SCRs and Triacs to new levels of performance and safety

Geneva - STMicroelectronics (NYSE: STM), a global leader serving customers across the spectrum of electronics applications and the world's leading supplier of power semiconductors for equipment such as domestic appliances, lighting and industrial controls, has introduced a new package that will allow the further miniaturization of control modules that must meet strict safety specifications such as IEC 60370 and IEC 60335.

ST is initially using its new three-lead surface-mount package, SMBflat, to house selected products including an AC switch, an SCR (silicon-controlled rectifier) and three types of Triac, which are widely used in circuits such as valve, motor or pump controls, lamp igniters and circuit breakers.

o Occupying half the printed-circuit-board (PCB) area of the popular SOT-223, the new package allows ST's new ACS108 1-Amp AC switch to achieve the highest ever current density - a key figure of merit - for this type of device.

o The SMBflat package is also 40% skinnier than the SOT-223, which increases freedom for designers to miniaturize enclosures.

o Additionally, the 'creepage' distances of ST's X02 series SCRs and Z01 series Triacs, which use this new package, will help meet the insulation requirements of the major safety standards for domestic and industrial electrical equipment (IEC 60370 and IEC 60335).

o A specific footprint can be designed on the PCB, where either SOT-223 or SMBflat packages can be soldered. This solution guarantees full compatibility of both packages and provides flexibility at the production stage.

Major features of the SMBflat package:

o Package dimensions: 3.95 x 4.6 x 1.1mm

o PCB footprint solution compatible with SOT-223

o 3.4mm creepage distance

o RoHS compliant and halogen free

The SMBflat package is a feature of the ACS108-6SUF-TR AC switch, X0202NUF silicon controlled rectifier (SCR), and the Z0103/07/09MUF series of Triacs. All devices are available immediately in sample quantities. Outline pricing is $0.21 for Z01xxMUF Triacs, $0.31 for the X0202NUF and $0.50 for the ACS108-6SUF-TR, all in minimum quantities of 5000. Alternative pricing options are available for larger orders.

About STMicroelectronics

STMicroelectronics is a global leader serving customers across the spectrum of electronics applications with innovative semiconductor solutions. ST aims to be the undisputed leader in multimedia convergence and power applications leveraging its vast array of technologies, design expertise and combination of intellectual property portfolio, strategic partnerships and manufacturing strength. In 2010, the Company's net revenues were $10.35 billion. Further information on ST can be found at www.st.com.

More from Agricultural & Farming Products