Sticky-Pad Materials secure cell phones and tablets.
Press Release Summary: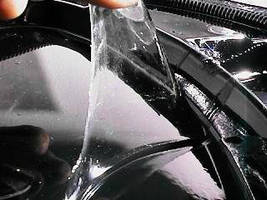 Used for dashboard sticky pads, polyurethane gel suits PSA (pressure sensitive adhesive) applications where permanent tackiness without residue is important. These 2-part thermoset materials, cured at room temperature, come in 2 formulations: one for moderate tackiness level and one for increased stickiness. Latter can hold heavier objects, be applied to smaller tack attachment surface, or hold objects with low surface energy levels. UV stabilizer package is also available.
---
Original Press Release:
Materials for Sticky-Pads Holding Cell Phones and Tablets
Have you ever wondered what material is used to make the sticky pads on a dashboard to securely hold your cell phone and tablet? Now, Northstar Polymers supplies one of the common materials used in this application.

We have been a formulator/manufacture/supplier of polyurethane gel raw material components for over 15 years. Historically, this material has been used for cushioning products including wrist rests for keyboards and mouse pads for computers as well as seating pads for bicycles/motorcycles. These polyurethane gel materials come with permanently sticky surfaces. This stickiness has caught eyes of product designers designing products to hold cell phones and tablet devices, which are being increasingly popular.

Unlike the TPE (thermoplastic elastomer) or PVC base sticky pad products, polyurethane gel does not have to contain processing oil, plasticizer, or other low-molecular-weight (liquid) materials, which could leach and dirty the contact surface. Acrylate and other polymers compounded with tackifiers are other common materials to make sticky surfaces, but these are not permanent. Usually, applying and removing a cell phone for a few times take away the tackiness.

Our polyurethane gel formulas are 2-part thermoset materials. The molecular weight of the reaction product is controlled to yield a polymer film, which exhibits a state between highly viscous liquid and solid at room temperature. This makes the product permanently tacky without leaching out low-molecular-weight liquid. This is the ideal material for PSA (pressure sensitive adhesive) applications, where permanent tackiness without residue is important.

The process requires only a very small initial investment to make sticky attachment parts. The material is cured at room temperature. With a simple casting process, it can be laminated and adhere permanently to high-surface-energy plastic films such as many types of common polyesters. The laminate sheet made of high-surface-energy plastic film and polyurethane gel can be cut to the desired shape, and attached to other plastic substrate by glue using the plastic sheet surface. This will make the sticky attachment surface on cell-phone/tablet holders.

Northstar Polymers carries two different formulations for sticky-pad applications for two different tackiness levels. One yields the tackiness range appropriate for common sticky-pad products with a moderate tackiness level. The other one is much stickier; it may be more appropriate for applications to hold heavier objects, smaller tack attachment surface, or to hold objects with low surface energy levels.

The processor can easily adjust the tackiness level simply by adjusting the mixing ratio between the given two components of the formula; so achieving the customized tack levels is simple. UV stabilizer package is an option for improved color stability. Custom formulations to fit into specific requirements may also be available for qualified projects. Please contact Northstar Polymers by e-mail info@northstarpolymers.com or by telephone at 612.721.2911 ext 119.
More from Adhesives & Sealants