Welding Rods, Wire and Electrodes
Stick Electrodes simplify welding during boiler tube repair.
Press Release Summary: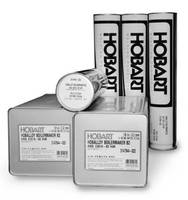 Hobart® Boilermaker(TM) low-alloy stick electrodes E7018-1, E7018-A1, E8018-B2, and E9018-B3 feature low spatter levels and removable slag to minimize post-weld cleaning and rework. They operate from 75-90 A and can be used to weld on thin- and heavy-walled boiler tubes without burn-through. Units accommodate variety of welding styles. They are available in 3/32 and 1/8 in. dia models in 14-inch lengths and 3/32 in. dia model with 12 in. length that can be bent to fit tight spaces.
---
Original Press Release:
New Hobart Brothers' Stick Electrodes Minimize Weld Rejects on Boiler Tube Repairs
- Feature exceptionally low spatter levels
- Offer reliable arc starts and re-starts
- Provide excellent bead wash TROY, Ohio. April 23, 2009 - To meet the challenges of tough boiler tube repairs and minimize weld rejects on these critical applications, Hobart Brothers developed its Hobart® Boilermaker(TM) family of low alloy stick electrodes. The family, which includes Boilermaker 18 (AWS E7018, E7018-1), Boilermaker 18A1 (E7018-A1), Boilermaker B2 (E8018-B2) and Boilermaker B3 (E9018-B3) stick electrodes, has been specially formulated to provide X-ray quality welds with no starting or stopping porosity. With the help of industry-respected Boilermaker journeymen, Hobart Brothers designed the Boilermaker stick electrodes to accommodate a wide variety of welding styles and also to provide several distinct characteristics. Low spatter levels and an easily removed slag both lessen downtime for post-weld cleaning and minimize the need for rework, while the products' excellent bead wash and reliable arc starts and stops ensure good weld quality with no porosity. The Boilermaker stick electrodes burn evenly, especially when welding pick-ups on the tube sides, making them especially forgiving for welding operators to use. Because the Boilermaker stick electrodes operate at an amperage spread of 75 to 90 amps, they can be used to weld on both thin- and heavy walled boiler tubes without burn-through, saving time and lowering costs for changing stick electrodes. To ensure the best joint access, Boilermaker B2 electrodes are available in 3/32-inch diameter 12-inch lengths. This 12-inch length allows welding operators to bend the electrode to fit in tight spaces common to boiler tube repairs and also allows for non-stop welding, again lessening the chance of starting and stopping porosity. All of the other Boilermaker products are available in 3/32- and 1/8-inch diameters in 14-inch industry standard lengths. Hobart Brothers is dedicated to the highest level of Performance Welding(TM). For product specification sheets or to learn more about Hobart Brothers and Hobart brand products, visit Hobartbrothers.com, call 1-800-424-1543, fax 1-800-541-6607, or write Hobart Brothers Company, 101 Trade Square East, Troy, OH 45373. Hobart Brothers Company of Troy, Ohio, is a leading manufacturer of welding filler metals marketed under the brand names Hobart, Tri-Mark, McKay and Corex. Hobart Brothers Company is a wholly owned subsidiary of Illinois Tool Works, Inc., Glenview, Ill., a diversified multinational manufacturer of highly engineered components, assemblies and systems.
More from Electrical Equipment & Systems