STI's Chimes Have the Longest Range in the Industry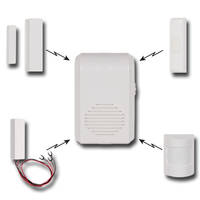 January 12, 2017 – Solve the problem of having to run wires with STI's commercial grade Wireless Musical Chimes. They are quick and easy to install, with no electrical wiring and no expensive through-the-wall drilling.
All units offer an exceptional operating range of up to 500 feet between transmitter and receiver—making it the longest range plugin chime in the industry. Select one of ten sounds (with multiple volume levels) with the push of a button on the transmitter.
Because they are compatible, numerous transmitters can link to the same receiver. Distinguish between front and back doors by selecting a different chime on each. UL/cUL Listed, FCC Certified, 433 MHz.
Four models are available:
STI-3350 Wireless Doorbell Chime with Receiver (can also be used as a receptionist call button or for a bed ridden loved one)
STI-3360 Wireless Entry Alert® Chime with Receiver (for doors, windows, liquor cabinets, etc.)
STI-3610 Wireless Motion-Activated Chime with Receiver
STI-3300 Wireless Doorbell Extender with Receiver
For more information on STI Wireless Chimes or the entire Stopper® Line, call 800-888-4784, fax 248-673-1246, email info@sti-usa.com or visit www.sti-usa.com.
Jamie Paul
Marketing Communications
Safety Technology International, Inc.
2306 Airport Road
Waterford, MI 48327-1209 USA
tel 248-673-9898 x249
fax 248-673-1246
Contact This Company Download Spec Sheet
More from Health, Medical, & Dental Supplies and Equipment