Level Sensors / Detectors / Transducers
Stevens SDX Depth Transducer Now Offered in 0-5 ft Range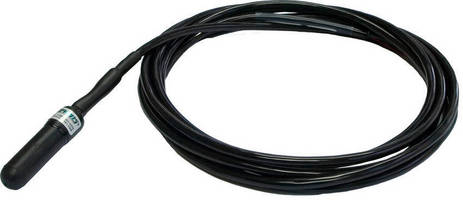 PORTLAND, Ore. - The popular and affordable SDX (Submersible Depth Transducer) liquid level sensor from Stevens Water Monitoring Systems is now available in a 0 - 5 ft range option, perfect for applications where the expected overall level change is minimal.

This new range option increases the resolution of the readings taken by the SDX, with its 4-20 mA output is being utilized over a smaller overall measurement range. Other measurement ranges available include 0 - 10 ft, 0 - 35 ft, and 0 - 50 ft.

The SDX is a versatile liquid level measurement sensor, offering 0.25 % full-scale accuracy and fully-potted electronics contained in a EPDM rubber housing, making the SDX ideal for harsh environments that put more expensive sensors at risk of damage or loss. Utilizing a vented cable, the SDX uses an atmospheric pressure reference to ensure measurement accuracy.

Starting at just $295.00 (plus cable), the SDX is available now from Stevens Water Monitoring Systems and its distributors.

About Stevens Water Monitoring Systems, Inc.:

Stevens Water Monitoring Systems designs and manufactures instrumentation and systems for long-term monitoring, collection and data analysis of water conditions and related environmental conditions. The company's core technology enables measurement of water level, water quality, groundwater, soil conditions and weather conditions. Stevens' technology is expanding into advanced image processing and wireless communication for information analysis that enhances industrial and military operations. Stevens provides proven products for certified wireless transmission of environmental data, from short-range Bluetooth technology to long-range GEO and LEO satellite communications solutions.

More from Material Processing