Sterilization System decontamintates herbs and spices.
Press Release Summary: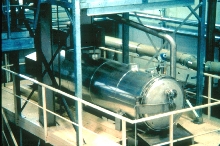 Continuous Steam Sterilizing System is suitable for high temperature/short time (HTST) decontamination of spices, herbs, seeds, and organic products such as tobacco, rice, bran, and other grains. Self-cleaning rotary pressure valves feed product into continuous autoclave, subjecting product to saturated steam of relatively high pressure to decontaminate it properly. Valves have knife that scrapes pocket of rotary valve every time it is exposed.
---
Original Press Release:
The Ventilex Continuous Steam Sterilizing System Is Ideal For Decontaminating Spices, Herbs, Seeds And More
CINCINNATI, OH (March 29, 2002) -The Continuous Steam Sterilizing System from Ventilex USA has proven ideal for the high temperature/short time (HTST) decontamination of spices, herbs and seeds, as well as a wide range of organic products such as tobacco, rice, bran and other grains. Though the process is simple - briefly expose contaminated material to saturated steam, then cool and dry the product - the practicality of a continuous system that can treat powders next to whole spices is unique. The keys to the sterilization system are the self-cleaning rotary pressure valves that feed product into the Ventilex continuous autoclaves at the outset of the processing, subjecting the product to saturated steam of relatively high pressure to decontaminate it properly. The heavy duty, all-stainless steel rotary pressure valves feature a self-cleaning knife that scrapes the pocket of the rotary valve every time it is exposed, ensuring that no matter what product is processed, clogging and sticking will not occur. Once through the valve, the product is exposed to steam, where temperature and pressure decontaminate it and, in some case, sterilize it. The Ventilex system employs a patented, self-cleaning shaking bed conveyor in the continuous pressure vessel to transport the processed product for the precise amount of time needed for "kills" to occur. This proves perfect for decontaminating herbs and spices such as coriander, whole grain black and white pepper, paprika, basilcum, persil and curry powder. After the product is exposed for the proper amount of time, it is discharged from the autoclave using the rotary pressure valve, which ensures that the product is decontaminated. From the rotary valve, product travels via a chute connected to a Ventilex Fluid Bed Dryer/Cooler, where residual steam is flashed off for instant cooling at the start of the drying process. The Fluid Bed Dryer dries and cools the product with indirect heated and sterile air from a Ventilex Bio-cell filter. Ventilex supplies the entire steam sterilization system, including the mezzanine for the autoclave. In addition, Ventilex engineers supervise the installation, testing and start-up of the equipment, and can even manage the bulk loading and pneumatic discharge to a conditioned packing room. Ventilex supplies a VFD controller with every sterilization system as part of the comprehensive control system and can automate the control with a complete PLC or using the customer's existing DCS. Ventilex manufactures high quality Fluid Bed Dryers and Fluid Bed Coolers available in all sizes from pilot plant to ultra-large production; Jet-Bag Air Filtration Systems for environmental control of discharged air, and Bokfard(TM) Steam Sterilization Systems for decontaminating spices and sterilization of cellulose products. All Ventilex equipment is custom designed to meet the highest production standards. Industries served include food, dairy, chemical, pharmaceutical and aggregates worldwide. For more information about all the ways the Continuous Steam Sterilization System can meet your toughest decontamination challenges, contact Ventilex USA, P.O. Box 717, Mason, OH, phone (866) 265-6823 or (513) 398-8778, Fax (513) 398-7780, or e-mail info@ventilex.net. Visit www.ventilex.net to download a data questionnaire so we can evaluate the product, determine the cost-per-pound or kilogram of operating the system, including maintenance and capital costs, and provide a detailed quotation.
More from Mechanical Components and Assemblies