Sterile Straws provide alternative to graduated pipette.
Press Release Summary: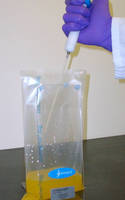 Designed for use with fixed or variable-volume pipette handsets, universal fit extra long Simplette Straws can reach bottom of all Stomacher® bags, helping to recover homogenized sample for microbiological inoculations without risk of cross contamination. Straws are packaged irradiated sterile and are available in 2 lengths, 170 and 250 mm.
---
Original Press Release:

Introducing Seward's New Universal Fit Simplette Straws



An inexpensive alternative to the graduated pipette

Worthing, UK - Seward Limited, manufacturer and developer of the world leading, patented Stomacher® Paddle Blender range for over 40 years, is offering users exceptional value for money with their new universal fit Simplette Straws. Designed for use with fixed or variable-volume pipette handsets and costing less than £0.01 each, Simplette Straws provide an inexpensive alternative to graduated pipettes for sample handling applications.

With their increased wall thickness and extended length, Simplette Straws offer further benefits when compared to standard pipette tips. The Simplette Straw has been designed specifically to reach the bottom of all Stomacher® bags. This means that an homogenised sample can be readily recovered for microbiological inoculations without risk of cross contamination via the pipette handsets, since they have no contact with the bag.

Packaged irradiated sterile and available in two lengths, 170mm and 250mm, the Simplette Straw delivers quality at a fraction of the cost of traditional graduated pipettes. Stuart Ray, Technical Director, Seward Ltd. commented, "For too long pipette users have been paying too much for traditional graduated pipettes. Our new universal fit Simplette Straws prove there is no need. Offering quality, value and peace of mind over cross contamination issues, they really are a practical alternative for simple sample handling purposes."

For free samples of Seward's new Simplette Straws and further information, please visit: http://www.seward.co.uk/accessories.htm#simplettes

About Seward Limited

Seward manufactures the world leading range of Stomacher® paddle blenders and Stomacher® accessories used in sample preparation for microbiological analyses. The company has been manufacturing and developing the world renown and patented Stomacher® Lab Blender for 40 years. The original and still regarded as the best, over 8 million food samples a day are prepared on Stomacher® 400 paddle blender units around the world.

In addition to sample preparation for food safety analyses, within the bioscience market the new developments of the Stomacher® 80 and micro 80 are proving invaluable for safe and efficient sample processing. The Stomacher® 3500 has established itself as the instrument of choice for preparing samples for the new pathogen test protocols requiring jumbo size samples.

The company is based in Worthing, West Sussex, UK with a subsidiary company in Long Island, New York, USA. All Seward machine products are manufactured within the UK and 1 of its 3 worldwide Stomacher® bag manufacturing operations is also UK-based. This ensures control of quality and price to deliver excellent value to global trading partners and laboratory customers.

Seward Limited continues to develop the product range, now with 3 patents to its credit. Stomacher® is the most highly referenced brand name in food safety and life science sample preparation in scientific publications. The company also assists customers with method development through reference searches and sample evaluations within its own development laboratory.


More from Thermal & Heating Equipment